More Fringe Action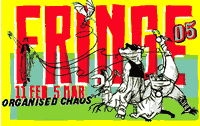 Just a quick update on what's going down in Fringe Festival Land over the next couple of days…
If theatre's your thing, try Origin 7 down at Frank Kitt's amphitheatre. "Two people, a man and a woman. Both in pursuit of childhood dreams of becoming astronauts awake to find themselves stranded on an unknown planet. They have never met before … Together they face the ultimate burden of forging creation."
Box (see earlier post) continues its extravagant run down at the White Room, but if you've done that and need yet more energetic perfomances, try some of the dance shows being put on: Snapshot and Perforum both promise to be excellent shows.
We've seen Francesca Mountfort performing her spooky cello pieces before, so we can highly recommend you get along to her show – Nervous Doll Dancing – on Friday night at Happy.
And on Saturday there's 'Gorgeous' in Manners Mall at noon: a festival featuring "dramatic drag queens, lovely lesbians, terrific trannies, and gay gems". Showcasing the best gay-friendly talent in Aotearoa, stalls and street performers. Everyone, obviously, is welcome. And dress-ups are encouraged.
We've no doubt missed many worthy events – you can see the full programme on the Fringe site.