The Beige Brigade hit the Stadium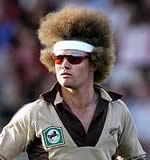 Well, we'll be heading off to NZ v. OZ one-day cricket match tomorrow not only to see (hopefully) a hard-fought contest between the two best one day cricket sides in the world at the moment, but also to see how much of the facial hair and lock-teasing action that graced last night's festive twenty20 game survives until the weekend.
Most of the kiwi lads had gone to some effort to get into the retro look, and it would be a waste to chop it. Particularly noteworthy were Cairnsy's 'I-am-my-old-man' style mo, Flem's mo (and the white toweling hat! magic), Craig McMillan & Matt Sinclairs' devilish handlebars, and the non-playing Dan Vettori, who got a huge round of applause every time the camera cut to him on the sideline, looking resplendent with his lambchop sidies and yet another handlebar moustache.
Despite the fact the Aussies smashed us out of the game, we hold out better hopes for the 'elongated' version of the game. And please keep the hair lads – if we can't win, at least we can look good losing. And it must be distracting to the Aussies, surely? Especially that 'fro – I mean, has anyone taken to the field in a professional sports game with a more outrageous hair-cut in the history of sport? Suggestions in the comments box please.