Never mind the statue, what's in my baggy?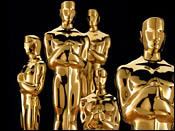 No joy for the Wellingtonista present at today's Academy Awards in Los Angeles. Taika Waititi's brilliant short film Two Cars, One Night lost out (as Taika himself predicted in a TV interview we saw a couple of days ago) to British director Andrea Arnold 's film Wasp. And the Weta guys had no luck for their special effects in I, Robot. Still, eleven last year, so can't complain.
Anyway, we've seen this story about the Oscar nominee's gift bags on the night around a couple of places now. The CBS News one is a bit more hysterical than some of the others, but captures the tone…
You're up for an Academy Award, or "just" a presenter, or performer. You're big time. Sought-after, adored, celebrated, rewarded. You've got it all. So why do you need more gifts? What's with the free spa treatments, free TV's, and $1,500 steak dinners? Why do you get over a hundred thousand dollars worth of stuff and not have to pay for any of it? And you can way pay for it. Even free satellite cable for a year. You can't pay for your own cable? That's just greedy.
But, of course, the thing is, among all the 'greedy' 'got-it-all' US$20M-a-pop Hollywood stars is Taika (and presumably his short-film making mates, as well as some of the documentary makers). They must be stoked. Even if Taika sees even a half of the value of the rumoured US$100000+ that the gift bags are supposedly worth, he'll be absolutely laughing.
A lot of the value seems to come from the 'street price' for things like a three-night stay at San Ysidro Ranch, a popular celebrity honeymoon spot in Montecito, which is listed as being worth $US3000. But still, we can think of worse things than to have a few weeks worth of free luxury living at exclusive hotels and resorts dotted around the globe at our disposal. Nice work.