New Wellington Arts Centre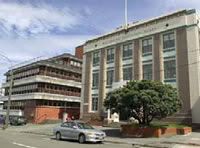 Just spotted on the excellent Feeling Great website – Wellington is to get a new Arts Centre, on Abel Smith Street (in the old Education Board Building between Cuba and Victoria Streets).
We're not sure if the old Arts Centre (the band rotunda down Oriental Parade, where we go for piano lessons every week, incidentally), will be kept on or not, but, either way, the new facilities look set to expand the number and range of artists and workshops able to be housed at any one time. The new space covers 3000 square metres of floorspace, over a total of seven floors in two adjacent buildings.
Rehearsal-room-deprived musicians should take note, there are also plans afoot for sound-proofed practice rooms. Finally.
Studios, meeting spaces and various facilities will be available from April of this year. If you want to lease a studio, get in now while there are still places available. More details and info on getting application forms are available from the Feeling Great website.