Places we like to eat at – Arashi Kushiyaki Bar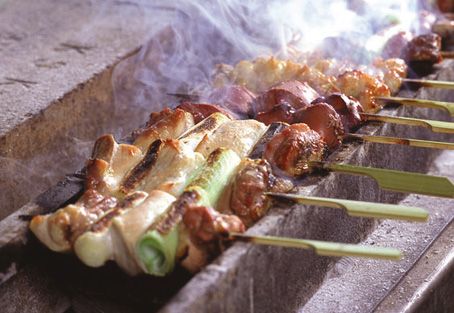 You know what's great? Food on sticks. It's a simple concept, but a goodie. If Wellingtonist was in Auckland, we'd happily spend all our time (well, not ALL, but a great deal) at Tanuki's Cave, and it's not just because of our love for huge badger testicles. However, as you may know, we don't live in Auckland anymore, so it's time to find a new food-on-stick venue.
Arashi Kushiyaki Bar used to be a Malaysian restaurant, but now they've put in some tatami mats and low tables at the front of the bar. We recommend avoiding this bit. Seriously, if you want to sit on the floor, do it at home – or find places that have sneaky holes cut under the table so your legs don't go to sleep. So if you're not sitting on the tatami, you'll have to go to the back of the restaurant, which isn't the most character-driven space in the world, but just remember you're there for the food. And what glorious food it is too!
The thing about kushiyaki (which we believe means "stick-barbeque" but Jo's probably wrong, because she only lived in Japan for four years after all) is that what you want to do is order a whole bunch of dishes and share them, and with most costing $3.50 or $4, this is very easy to do. Here's what Wellingtonist ate, in list form:
Mixed Vegetable Tempura ($10): this was crispy and delicious as it should be, but they forgot to bring out the dipping sauce with it, and when we finally managed to catch someone's attention to ask for it, they didn't bring out the spicy daikon that goes in it. Ahh well, it was still a delicious plate of pumpkin, and onion and carroty things and capsicum, although it would have been nice to have more than one piece of brocoli.
Special five stick plate ($9): we had one of these each, because each plate has one skewer of squid (which is apparently delicious, if you like that sort of thing), one skewer of beef sirloin, one skewer of pork belly, one skewer of chicken tenderloin with spring onion and one skewer of mushrooms. All are covered in a sticky sweet soy sauce and barbequed at the bar. This plate is a nice way to get a good mix of many of the things on the menu.
One plate of kumara ($3): buttery really thin slices of kumara with a little yummy charring on.
Asparagus wrapped in bacon ($4): this is seasonal, so right now they will have okra instead of asparagus and we're not sure how good that will be. The bacon is crispy and salty and complements the asparagus perfectly. You only get two skewers, but it is delightful.
Gingko nuts ($4): We're not sure if these really count as nuts, as there is no biologist amogst us, but nevermind. The important part is that they're hot and salty and soft. Mmm hot salty nuts our mouths.
Steamed shortgrain rice. $2 a bowl.
One bottle Corban's Pinot Gris $26: Yum! Really really fruity, and up to the challenge of matching all the different types of things we ate. The aroma of this wine is absolutely divine. And yes, sure, you might shy away from it because it's Corban's and you'd think it would be inoffensive and generic, but don't. It's probably worth pointing out right now that while Arashi is BYO, there's a $5 corkage charge, so it makes sense to just buy the wine outright at the restaurant. The wine list is fairly limited, and fairly Corban's dominated, however.
We can't remember what the bill came to – $65 or $70 perhaps? We weren't stuffed to overflowing, but we were satiated well enough. Service isn't amazing, but it's not offensive either, and the food arrives fairly fast. Arashi isn't a place where we'd want to spend hours and hours, but it is a place for tasty food on sticks, which was the whole point of the exercise.