The Phoenix Foundation – Pegasus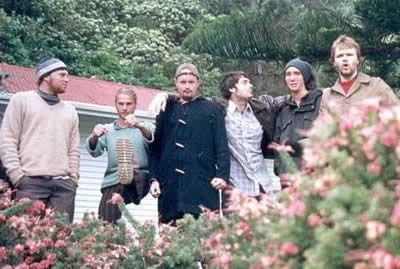 The Phoenix Foundation's second album Pegasus is out now, and has followed the lead of recent releases of fellow Wellington bands Fat Freddy's Drop (Based on a True Story) and Shihad (Love is the New Hate) by going straight into the top 10 of the NZ album charts.
Ten years ago it would have been unthinkable that three of the ten top-selling albums in the country would be from New Zealand bands, let alone bands from our fair city (in fact, if you include all the NZ bands, with The Feelers and Breaks Co-Op, half the top 10 is homegrown). How many small cities around the world, can boast similar proportions of success in their national charts? Not many, etc…
And it's not just some jingoistic NZ music month marketing coup. The Phoenix Foundation's alt-country, pop, instrumental, and occasionally prog-rockish album is all class, and has been on high-rotate at Wellingtonist Towers over the last week. From the bass-driven and theremin laced instrumental spookiness of the first single 'Hitchcock' (accompanied by an incredible video from Rueben Sutherland, soon to be showcased at the onedotzero9 festival at London's ICA alongside the most innovative music videos of the past year), to the wiggly guitar classic that is new single 'Damn the River', the whole album is a gem.
The band are touring in June and July (playing in Wellington at Indigo on the 24th June), and their live performances are, if possible, even more brilliant than their recorded efforts, so it goes without saying that we recommend you head along.
Some useful links…