Wellington Film festival – We Recommend…

God! Where to start? We're about a third way through the programme & EVERYTHING so far looks like a must see. Kudos to Mr Gosden & his team this year.
Disclaimer: Our opinions are not infallible, we saw a promisingly enthralling documentary a few years ago called Hybrid… and it was literally watching corn grow… interspersed with the most boring home movie commentary… we'll try to shield you from its ilk…
Then again, we have seen some wonderful films that did not sound at all promising in the programme.
So… in no particular order… liberally quoting without acknowledgment from the programme… what we'd see if we had unlimited time & money. You have our 100% guarantee that you will like these movies… or we will call you a dumbass.
Hidden: Big French comedy crowd pleaser. Because it's French, it's "Art" right? This will be good. Also, it has two of the most ubiquitous, and charismatic French stars, Daniel Auteuil & Juliette Binoche.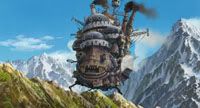 Howl's Moving Castle: Japanese Anime maestro Miyazaki Hayao takes on Dianne Wynne Jones children's novel. Will be eye poppingly family friendly.
Rize: For fans of (and anyone curious about) Krumping… a hip-hop dance subculture.
The Child: Young man considers selling his baby on the black market. Expect harrowing thrills, heart-break & heart-warming (guessing here), and superb acting.
The Lost World: Pre-King Kong stop motion dinosaur effects based on the Arthur Conan Doyle novel. Only fragments of this have existed since shortly after it was first released (long story). But this restored version is nearly intact, as it first screened. With a live music original score from pianist Jan Preston & saxophonist Peter Boyd.
The 5000 Fingers of Dr T: We've actually seen this… freaky-assed movie about a boy who hates his piano teacher. Screenplay by Dr Seuss. Pretty much what you'd imagine & more. Um… if ever there were a movie to legalise cannabis for….
Bombon – El Perro: Heartwarming story about a curmudgeon & his dog.
Little Sky: Heartwarming & heart-breaking story about a guy… and someone else's toddler (not in a dodgy sense, if you get my drift).
Rolling Family: Heartwa… OK, we'll stop saying that. Extended family & their campervan.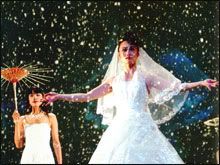 The World: Beijing global-theme park & the denizens within. …go-getters, gangsters, social climbers and sleazeballs. But hey, that's show-business.
36,quai des Orfevres: Daniel Auteuil & Gerard Depardieu (what sort of film festival would it be without these two?) as veteran cops vying for the same promotion.
The Ax: Black comedy about an unemployed corporate type who sees a niche in eliminating (literally) his competition.
A Common Thread: Chick flick involving hand-weaving & embroidery. Expect it to be heartwa… and visually sumptuous.
The Intruder: Claire Denis latest. French Art-house at it's finest. Expect to be perplexed about what's going on (yes, this IS a recommendation!)
Kings & Queen: French… tragicomedy, couldn't make much sense of the programme notes in the quick scan I performed, but has Catherine Deneuve. So it must be good.
Look at Me: Contemporary French cinema at its best. Who are we to argue? Young opera singer tries toescape the shadow of her superstar novelist father. Probably very, very amusing.
2046: Two of our favourite beautiful people, Tony Leung & Maggie Cheung (yes, they have both made movies with other people) in Wong Kar Wai's latest (If we read this correctly, this is the sequel to his In the Mood for Love which also featured these two). Also has hotties Zhang Ziyi, Gong Li, Carina Lau. Lucky Tony… HIGHLY RECOMMENDED!!
Election: Mega-violent triad movie.
Hari Om: Light & lively Indian road movie. Looks great.
Tony Takitani: Adaptation of Haruki Murakami's short story. Apparently "stylised" isn't a strong enough word…
3-Iron: We've read about this… from the director of the beautiful Spring, Summer, Fall, Winter… and Spring. A drifter breaks into houses, makes himself at home, and then repairs the appliances & generally makes things better than they were when he entered. Then he comes across an unhappy wife in one of them…
Life is a Miracle: A circus, a love-sick donkey, and a home made bear. Sounds like a John Irving novel. But it's actually mad-cap sounding antics in war torn Bosnia. Really.
The Sea Inside: This year's Best Foreign Film Oscar winner. The true story of a Spanish quadraplegic who fought the Spanish government for the right to end his life. Not nearly as gruelling as it sounds…
The Wayward Cloud: At last! The Art-house sleaze! The story of a Taipei porn star which doesn't sound very titillating.
9 Songs: More Art-house sleaze! Michael Winterbottom's controversial feature about a love affair. Controversial for the hardcore sex… but apparently it's tender, heart-warming & all in the best possible taste.
The Queen of Sheba's Pearls: UK/Swedish sweet, comic hymn to post WWII Englishness. A beautiful, mysterious foreigner (swedish) enters the lives of an English family & she's the dead ringer of their dead mother.
Yes: Sally Potter's latest. Has Joan Allen in it as a molecular scientist so it must be good.
Palindromes: More Todd Solondz weirdness about the terminally uncool in American suburbia.
Undertow: Contemporary Southern Gothic movie thriller. We can't resist them.
4: Right from the programme here: "The feral and the heavy metallic vie for dominance in this extraordinary assault on the senses, the year's most transfixingly baffling movie – which among other things, purports to reveal the meaninglessness of the number 4…" No need to read any more, We are SO there! Although we quite like "a howling orgy of decrepitude and decay" also.
Homegrown – Works on Film & Homegrown – Works on Video: I mean… you HAVE to don't you? Besides, these are always fascinating & entertaining.
Kekexili – Mountain Patrol: Superbly photographed ecological manhunt movie.
Look Both Ways: Very funny sounding Ocker comedy about an eternal pessimist.
Me and You and Everyone We Know: We've read (good things) about this one too – true indie feature about relationships.
My Summer of Love: And this one too. UK comedy drama about infatuation. Sports great performances from its young cast, apparently.
Whisky: The first Uruguayan sock factory movie you have probably ever seen.
Fiction Artists: One of those clever & hilarious compilations of clips from old movies, this time showing Hollywood's depiction of the tortured artist.
Banana in a Nutshell: We only heard the term " "http://www.publicaddress.net/default,2017.sm#post2017″>Banana" recently. And now here's a film about one.
Double dare: A documentary about Xena's stunt double, Zoe Bell. and veteran stuntwoman, Jeannie Epper.
Enron – The Smartest Guys In The Room: Yeah right.
Sedition: The suppression of dissent in NZ. Could be an eye opener.
The Man from Laramie: We've seen this too. The greatest movie star ever, James Stewart, searches for the man who killed his borther in this lush western directed by Anthony Mann. HIGHLY RECOMMENDED!
East of Eden & Rebel Without a Cause: Ever wondered if james Dean could live up to the post-death hype? Wonder no more… check out the lesser known Nick Ray films too, they're all going to be great.
Kung Fu Hustle: "Like a gonzo fusion of Tarantino & Tex Avery" (Looney Toon maestro). Ultraviolence. HIGHLY RECOMMENDED!

High Tension: As the title suggests. A white knuckle ride about a girl & her chainsaw. "One film you won't want to take home to meet mum".
Inside Deep Throat: Documentary sleaze, so that's alright then!. It's not about Watergate.
Overnight: Documentary morality tale about a blowhard who blew his big chance in Hollywood. You won't feel sorry for him.
Because the Wellingtonists are such avid musos, we'll also be going to ALL the musical documentaries… and there are several, including: Sorceress of the New Piano; Touch the Sound; A Labyrinth of Time; Fallen Angel – Gram Parsons; Hank Williams – Honky Tonk Blues; The devil and Daniel Johnston; DIG!; Brasileirinho; and Be Here To Love Me – A Film About Townes Van Zandt.
And that's it! There are many more that we missed that you might quite like (in fact, enthusiastic word of mouth always follows several films we decide not to bother with), so do check out the programme, and/or the website.