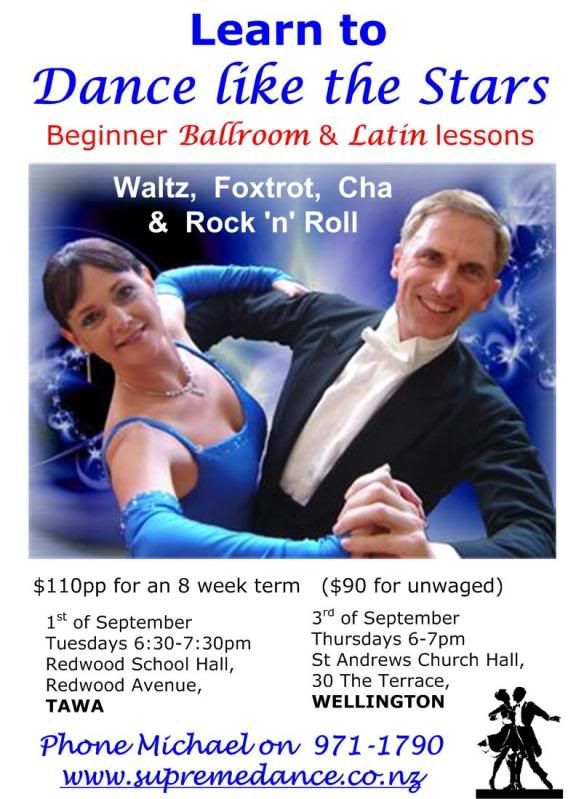 It's a few minutes to 6pm on a Thursday night, a motley group are making their way along the Terrace to the St Andrew's Church Hall. Inside, there are already a dozen or so people in casual attire. These are the "Advanced Class" who came at 5pm. Many of them stay on after their class to help and coach the "Beginners" who are arriving for their session with teacher Michael Harris. The beginners don't come too early, because watching the advanced practise is very discouraging.
This is Thursday night dancing.
Every 8 weeks a new beginners class commences. Last night was the second session of the latest term, and already we're old hands at the Clap Dance and foxtrot. We're new hands at Rock 'n Roll. Next week, God knows what fresh humilations await.
Old hands have expressed delight that this term's intake is almost equal numbers of men & women. This means the more advanced women don't have to dance as men so much. Men never have to dance as women.
The class begins with a simple warmup in the form of the "Clap Dance". This is because after every few steps, a lusty clap is required, before tippy-tapping back in towards your partner to bump hips. On the off chance you manage to connect without dislocating your partner's hips, you get an encouraging comment from Michael. Me? After learning the next stage of the tippy-tapping, which involves a spin and a clap, I found myself about 10 metres away from my partner & having to sprint back in from across the room to attempt my "bump".