Steakout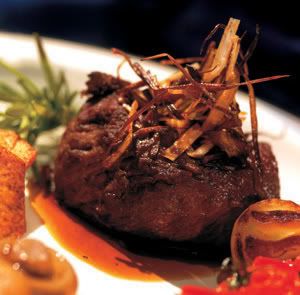 Looking for a good steak in Wellington? A week or so ago this Wellingtonista was & after consulting my colleagues, I can report back on two of the finest steaks I have tasted in this city (yes, two).
First up, it was one of those notable occasions (although not a significant one) that prompts thoughts of a nice lunch and/or dinner.
First off lunch:
I had expressed to my loved ones, a particular desire to sample either a great steak, or a great cassoulet.
So imagine my delight on arriving at Copita to find they had "Fillet steak on a bed of Cassoulet"! It was meant to be obviously.
It was lovely, as was the squid entree.
Copita itself was quite underpatronised that day, but there was some sport to be had listening to a very loud party consisting of two older gentlemen lunching with two much younger women. Because they were so loud we soon ascertained the gentlemen were winemakers from the Hawkes Bay. It wasn't obvious who the women were, but we decided that if the women paid, they were probably wine distribution reps, and if the men paid, hookers. As it happens, we left before them so we'll never know!
And onto dinner:
We decided to take the tip from the team & try the Steak Frites at Le Metropolitain in Cuba St. This was served with a red wine & bone marrow sauce & we accompanied it with a green salad & copious glasses of a French wine whose name I can't recall.
And once again, I can recommend a winner!
Le Metropolitain on this evening was well patronised but not packed, in addition, it's a lovely little spot to watch passers by from. The staff were attentive & informative, the menu offered plenty of variety & the evening was a rousing success.
I'm happy to take any other decent steak recommendations for next year, in the comments.
That is all.