Wing! Leila! Live!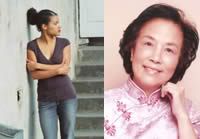 Wellingtonians are spoilt for choice when it comes to their foreign-born-but-now-kiwi female singing stars tonight, with two of the country's most distinctive performers putting on shows around town.
First up is the debut Wellington appearance of the world famous Wing at the Mercure Hotel on Willis Street. Wing, an expat Hong Kong resident who now lives in Auckland, has been, err, entertaining New Zealanders with her unique take on all sorts of classic hits – from Abba to AC-DC – over the last few years. The songs really have to be heard to be believed (to do so, visit her website and head over to the downloads page). Somehow the makers of South Park heard of Wing's idiosyncratic singing style, and she recently featured (as herself) in an episode from the latest series. Now that's famous.
Perhaps a touch more serious in her approach is the extraordinarily talented London-born (of Ghanaian heritage) Leila Adu, who will be releasing her second album tonight at Happy. Leila has recorded the album with a who's who of local Wellington talent, including the likes of local jazz-legend Jeff Henderson, ex-Muttonbird guitarist and now producer-extraordinaire David Long, and ex-TrinityRoots member Ricky Gooch. Supporting Leila will be Sam Scott of The Phoenix Foundation, doing a nice low-key solo set.