Wellington Central candidates meeting @ Aro Valley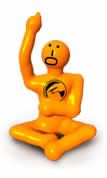 The Aro Valley Community Hall Meet the Candidates of Wellington Central meeting has long been one of the highlights of the campaigning that goes on in the build up to an election, and this time around would appear to have been no different.
Smack bang in the middle of the hippy-lefty-green hub of Wellington (as National Party candidate Blumsky pointed out, the Greens out polled National by 400% at the Aro Valley polling last election), it's always a challenge for the right-of-centre parties, and one that most of them seem to enjoy, as the (generally) good-natured attitude of the audience heckle all the participants constantly, as Green Party candidate Sue Kedgely found out, when bemoaning the shortage of ambulance staff to take accident victims to hospital, and someone yelled "send them by trolley bus" – a reference to her promise to introduce wind-powered trolley buses to the region.
More write-ups of the evening at beNZylpiperazine, David Farrar, Liberty Scott, BlogGreen and the Dominion Post.