The New Zealand Film Archive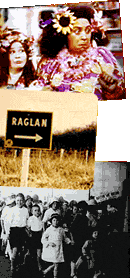 This lunchtime, I popped downstairs & around the corner from the Wellingtonista Towers, to the NZ Film Archive & spent a fascinating wee while browsing their catalogue of VCRs & DVDs.
I tried picking the brain of the technician on duty in the Media Library, but he was just relieving & had sketchy information at best to impart.
But the catalogue is user friendly, and there were lots of terminals available.
So after spending 10 minutes browsing through all manner of old listings, commercials, TV programmes, feature & short films, corporate promotions and home movies…
I settled on a small collection of old TV commercials, including the original Fruju ad, the Moro Man, Give Fluffy to Me (I was at school with that guy & I tell you, if a flight attendant that looked like that, had said "meeow" to me like that… well… ahem… probably very little would have happened), and some startlingly homoerotic ads for something or other featuring a lot of well known (in their day) rugby players & well known (in his day) Wellington publican Trevor Snowden…
I really need to take a month or so off & go through the lot & get back to you with the highlights…
Anyway, well worth a look if you're wandering past that way.
In the exhibition rooms, they had some old computers & some archival footage of the Rainbow Warrior affair. Fascinating!