Wellington Film Society for November
Welcome to our final month of the 2005 season.
The whole month (if we can include Monday 31 October)features the work of German film producer Artur Brauner. Arguably the most influential film producer of post-war Germany, he was also driven to produce films about victims of the National Socialist regime (when the Nazis invaded Lódz, Poland, Brauner's home town, they killed forty-nine of his relatives). Though the majority of his production output consisted of musical romantic comedies and mysteries, he returned from time to time to a topic which lay close to his heart – to honour the victims of Hitler's regime. The films are made by reputable directors and well-known actors.
This season of five films are all on Monday nights at 6.15pm at the Paramount and have been made available to the Wellington Film Society by The Goethe-Institut. The screenings will be free to members, with the public admitted by way of donation at the door – paper (or quiet) money please.
The first film in the season on Monday 31 October is CHARLOTTE S (Frans Weisz, Germany/Netherlands 1980). It tells the story of painter Charlotte Solomon, portrayed by Birgit Doll – who won a Bavarian Film Award for her performance. Born in Berlin in 1917, Charlotte pursued her dream of becoming a painter in the midst of domestic melodrama and historical tragedy. When the Third Reich came to power she took refuge in the South of France, where she created her life in a collection of almost 800 gouaches. Before being sent to Auschwitz in 1943 at the age of 26, she packed her work in a suitcase and presented it a local doctor. "Please keep these safe", she said. "It's my whole life".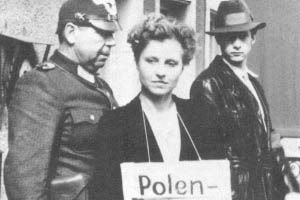 On Monday 7 November, Andrezej Wajda's A LOVE IN GERMANY (1983), based on the novel by Rolf Hochhuth about a forbidden love affair during World War II. In
a small Germann town, Paulina runs a grocery store while her husband is serving in the army. She falls madly and passionately in love with a Polish prisoner of war who is young enough to be her son. The penalty for their love is death for the POW and imprisonment for Paulina. Hanna Schygulla's portrait of the reckless wife whose thirst for a love which admits no limits is a tour de force performance.
ANGRY HARVEST, made by Agnieszka Holland in 1985, is the film on Monday 14 November. The setting is occupied Poland and the drama centres in the relationship between a farmer, played by Armin Mueller-Stahl, who is reaping the benefits of wartime scarcity, and a jewish woman, played by Elisabeth Trissenaar, whom he finds in the woods after she has escaped from an Auschwitz-bound train. He harbours her in his cellar and brings her back to health. The dynamic performances of these two characters (played by actors who were prominent in the films of Rainer Werner Fassbinder) contribute to the strength of the film.
Istvan Szabo is the director of HANUSSEN, which was nominated in the Best Foreign-Languge Film category for both the Golden Globe Awards and the Academy Awards in 1988. It screens on Monday 21 November. Together with Mephisto (1981) and Colonel Redl (1984) it is the third part of Szabo's 'wartime trilogy' – all starring Klaus Maria Brandauer with cinematography by Lajos Koltai. While recuperating in a military hospital, Karl Schroeder comes under the influence of a Jewish psychologist who guides him through the subtle art of hypnotism. He also learns how to market his bizarre gifts with a new name and image. Reinvented as suave turbaned mystic Erik Jan Hanussen he quickly moves into influential circles and captures the attention of Hitler when he declares that the country is on the threshold of a new era: of order, and the triumph of the will. But he makes a fatal mistake when he predicts the burning of the German Reichstag…
The final film in the season on Monday 28 November is THE ROSE GARDEN (1990), directed by Fons Rademakers. Once again Brauner places his confidence in big-name stars such as Liv Ullmann, Maximilian Schell and Peter Fonda. Schell, otherwise an eloquent actor, convincingly makes the stammering and speechlessness of a traumatised survivor a part of himself. The central story, based on historical fact, deals with the hanging of 20 Jewish children in a school in Hamburg a few days before the end of the war. The former concentration camp commander who was responsible was living unbothered by the authorities when the film was being made. The film makes questions about the administration of justice and what is justice and injustice its main theme.
Confirmed after the current issue of "Cinephile" was issued, is another selection of recent French documentaries on DVD presented by the Film Society in conjunction with the French Embassy and Film Archive. Admission will be free to Wellington Film Society members with the public paying normal admission prices at the Archive's Mediatheatre. Just present your card at the box office to receive a complementary ticket. You'll find details of the three strongest and best known on our website. Each will have two screenings – at 7.00pm on Friday and Saturday nights.
SALVADORE ALLENDE (2003), directed by Patricio Guzman. Friday 4 and Saturday 5 November.
WALL (2004), directed by Simone Bitton, was in this year's Wellington Film Festival. It deserves these extra screenings on Friday 18 and Saturday 19 November.
ODESSA ODESSA (2004), directed by Michale Boganim, depicts the lives of current Jewish residents from Odessa in Russia, as well as expatriates who have relocated to "Little Odessa" in Brighton Beach, New York, and Ashod, Israel. Its Jewish theme complements this month's Film Society season. Screens Friday 25 and Saturday 26 November.
Other feature-length films in this documentary season – all at 7.00pm are:
THE ROUGH BOYS [Les Mauvais Garcons] (2004), directed by David Carr-Brown, Pierre Bourgeois and Patricia Bodet. Screens Friday 11 November only.
PAUL IN HIS LIFE [Paul dans sa vie] (2004), directed by Remi Mauger, screens on Saturday 12 November only.
L'AFFAIRE VALERIE (2004), directed by Francois Caillat, screened on Friday 2 December only.
As well there are three short films, LE PEAU TROUEE, LE ROSSIGNOL and PARADIS, which will screen at 6.00pm on Saturdays 12 November, 19 November and 26 November respectively. Click here for the French Embassy listing of these films and as usual, check the Archive's events calendar
The 4th Chinese Film Festival runs at the Rialto from 10 to 13 November, with intensive filmgoing available on the Saturday and Sunday. Check the weblink for the schedule and links to descriptions of the films.
Here's an extra for the beginning of next month. As part of the Khandallah Arts Festival, our silent-film pianist, David Beatie will be accompanying Broken Blossoms at the Khandallah Town Hall on Saturday 3 December at 8.00pm. Final details are yet to be finalised but it is expected there will be a small charge to cover hall hire and supper.
And keep supporting the Paramount by attending their regular screenings. Coming up:
On 3 November, ELIZABETHTOWN (Cameron Crowe, USA 2005). Girl meets boy story in which Orlando Bloom flies to his home town of the title and Kisrten Dunst is the flight attendant who pays him special attention.
THUMBSUCKER (Mike Mills, USA 2005), opens on 10 November. This gentle satire of suburban family angst was in the Film Festival and reserves this return season.
Fernando Meirelles (City of God) returns to the screen with THE CONSTANT GARDENER (USA 2005), an adaptation of a John Le Carre novel. It opens on 17 November.
Another Film Festival title returns on 24 November. Costa Gavras' THE AX [Le Couperet] (France/Belgium/Spain 2005). Jose Garcia plays a man made redundant from a position at a paper mill. After two years searching for a job he hits on a plan to identify and eliminate his competitors. Black comedy doesn't come much blacker than this…
Oh, and the 24 Hour V Movie Marathon opens Saturday 5 November at 6.00pm. Thirteen films are promised in 24 hours!