Thanks to David Lindsay, WFS President, for sending these notices throughout the year.
Poster Sale
How many times, when you have been to the Wellington Film Festival, have you wished you could have one of the posters that were on display in the foyers – even some of those that were mounted on card. Well here's your chance: Saturday November 26 at the Paramount from 10.00am to 1.00pm. There will a variety of posters from over the years, including large 4 sheet ones and mounted posters. Anything special or rare will be individually priced, otherwise most posters will be at a standard reasonabe price.
A taste of what is on offer – The Cook, the Thief, His Wife and her Lover, Dreams (Kurosawa), The Dead (Huston), Liquid Sky, Once Upon A Time in America, Various Rohmer films, Walkabout, Land of the Dead, a weird Czech version of Thoroughly Modern Millie. Of the mounted ones: Big Night, Celluloid Closet, some Takeshi Kitano films, The Kingdom, Music of Chance, Naked, Milou in May, Zero Kelvin. Plus heaps more. Roll up and check it out. There will be flyers about the sale at our screening on Monday night.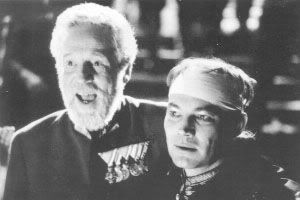 We are now down to the last two films in our German season made available to the Wellington Film Society by The Goethe-Institut. The screenings are free to members, with the public admitted by way of donation at the door – paper (or quiet) money please. If you haven't already, make sure you pick up a copy of the Goethe Institut publication on the producer Artur Brauner which is available free (while stock lasts).
Istvan Szabo is the director of HANUSSEN, which was nominated in the Best Foreign-Languge Film category for both the Golden Globe Awards and the Academy Awards in 1988. It screens on Monday 21 November at 6.15pm. Together with Mephisto (1981) and Colonel Redl (1984) it is the third part of Szabo's 'wartime trilogy' – all starring Klaus Maria Brandauer with cinematography by Lajos Koltai. While recuperating in a military hospital, Karl Schroeder comes under the influence of a Jewish psychologist who guides him through the subtle art of hypnotism. He also learns how to market his bizarre gifts with a new name and image. Reinvented as suave turbaned mystic Erik Jan Hanussen he quickly moves into influential circles and captures the attention of Hitler when he declares that the country is on the threshold of a new era: of order, and the triumph of the will. But he makes a fatal mistake when he predicts the burning of the German Reichstag…
The final film in the season on Monday 28 November is THE ROSE GARDEN (1990), directed by Fons Rademakers. Once again Brauner places his confidence in big-name stars such as Liv Ullmann, Maximilian Schell and Peter Fonda. Schell, otherwise an eloquent actor, convincingly makes the stammering and speechlessness of a traumatised survivor a part of himself. The central story, based on historical fact, deals with the hanging of 20 Jewish children in a school in Hamburg a few days before the end of the war. The former concentration camp commander who was responsible was living unbothered by the authorities when the film was being made. The film makes questions about the administration of justice and what is justice and injustice its main theme.
That ends our official season for the year – but don't overlook our special screening at the beginning of next month.
As part of the Northern Wellington Festival, our silent-film pianist, David Beatie will be accompanying BROKEN BLOSSOMS at the Khandallah Town Hall in Ganges Road on Saturday 3 December at 8.00pm. Entry will be by way of donation/koha.
Next year is the 60th Anniversary of the founding of the Wellington Film Society – and the film society movement in New Zealand. We are considering having some kind of function to mark the occasion – perhaps in conjunction with the AGM on 13 March.
The programme for next year is still in its early planning stages and nothing is yet confirmed. At the moment there is a possibility of a short season of Antonioni films in 35mm prints: L'Avventura, L'Eclisse and Red Desert are hoped to be included. Also in 35mm prints a short season of Godard: Breathless, Pierre Le Fou, Every Man For Himself and Contempt. There will also be some early American classics.
Our first screening next year, depending on print availability, will be on 6 March. The acclaimed silent-film accompanist, David James will be at Napier's Art Deco Week in mid-February playing his own commissioned score to Joe May's ASPHALT (Germany 1929). He will be in Wellington on 6 March and we are currently awaiting confirmation that the restored 35mm print will be available for our Wellington performance.
If you have any suggestions for films that you would like to see included in our 2006 season, please send them to me at FilmSociety@gmail.com. I will pass them on the NZ Federation of Film Societies which negotiate for films for the whole country – no guarantees though that your suggestion will be taken up. It all depends on rights and availability – and almost everyone has different ideas on what they would like to see. There are only a certain number of films we can programme in any one year!
We expect the brochure detailing our 2006 season will be mailed out in Mid-February. But keep an eye on our website from early in the New Year. Titles will be added as they are confirmed.
And keep supporting the Paramount by attending their regular screenings. Next up:
On 24 November, Costa Gavras' THE AX [Le Couperet] (France/Belgium/Spain 2005). Jose Garcia plays a man made redundant from a position at a paper mill. After two years searching for a job he hits on a plan to identify and eliminate his competitors. Black comedy doesn't come much blacker than this… From the Wellington Film Festival.