Ghosts at Futuna Chapel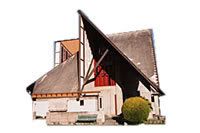 Andrew Brettell, theatre visuals designer extraordinaire, turns his hand to something a little more ethereal this weekend, when he's planning to 'haunt' the renowned Futuna Chapel up in Karori. Just what this entails we're not sure, but there'll almost certainly be a few ghosts floating around the place, and there's also a talk at 8:30pm each night from Nick Blake about the chapel's architecture.
When: Fri Dec 15th – Sun Dec 17th, 10am – 10pm
Where: Futuna Chapel, 62 Friend Street, Karori
How much: Free!
[Hat-tip: No Right Turn]