Malthouse closes on 23rd December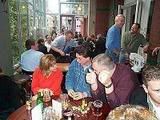 Only to re-open next to the Sports Bar on Courtenay Place around mid-February.
It'll be interesting to see if the middle management-types and general office dwellers that frequent the current Malthouse will make the Friday night trek down to Courtenay Place.
Having said that it'll be mighty to have a place that serves good beer (and not the standard sugary s!@t available) in the heart of Wellington's entertainment 'quarter'.
And so, for all those that are, like myself, middle management-types – see you for one last drink on the balcony!