2AWA: Best 2007 Wellington-based Event
There's always something going on in Wellington, and we try our very best to keep you informed. Being only human, there are plenty of things that we miss, but there's no way in Hell we would have missed any of the things below:
The event that made me get off my arse the most:
Events after the jump…

A. Craft 2.0

It can't have escaped your notice that crafting has undergone somewhat of a renaissance lately. Everybody and their dog is knitting, sewing, writing, painting, baking or making jewelry, and that is a good thing. It's especially awesome when all those crafters come together to sell their wares to each other in the glorious market that is Craft2.0 . There are other craft fairs around, which are also great, but Craft 2.0 takes the cake for its professional approach, gorgeously designed posters and the high quality of exhibitors.
image code
WINNER!!!
B. Cuba St Carnival

How to sum up a weekend where Wellington rejoiced in a true carnival atmosphere, ate, drank, and was merry? Hmmmm, well how about this photo? Before and during the carnival parade this young lady entertained the crowd with her dancing and (incredibly skillful) striptease (emphasis on the tease). She even stopped an entire brass band.
Were there complaints from anyone? No! Because everyone was having WAY too much fun, the cops were even ignoring those breaking the liquor ban. And we are not endorsing alcohol and public nudity (for once). The carnival was all about fun and frivolity and that's what we like. We love you Cuba Carnival!
C. Wellingtonista Bowling and Quiz Leagues

The Wellingtonista has never made it a secret just how much it would like to be Gawker, so when a bowling alley opened up in the middle of town, we knew it would be a good chance to start up a bowling league, just like Gawker, mixing it up with other web types, just like Gawker. Six teams were formed, and over five weeks we duked it out, making new friends and networks along the way. Points were awarded not just for physical prowess, but also for stupidity (fastest bowl, anyone?) and drinking minimums imposed.


Wellingtonista Bowling League certificates are now proudly displayed at agencies all over town. The Quiz League a couple of months later started with a bang and ended with whimpers the next morning after the final night at the Occidental, but along the way more new friends were welcomed into the fold, and new obsessions (link to hot hospo) were born. Any activity that combinds drinking with getting out into Wellington and meeting like-minded people has to be worth doing, and the Wellingtonista Lawn Bowls League due in Summer '08 is highly anticipated…
D. The Great Blends
When we're not reading our website, we're reading Public Address, so it make sense that their events – the Great Blends would go off. Where else would you have such a diverse group of people get together to learn so much and get so damn drunk?
E. Camp ALowHum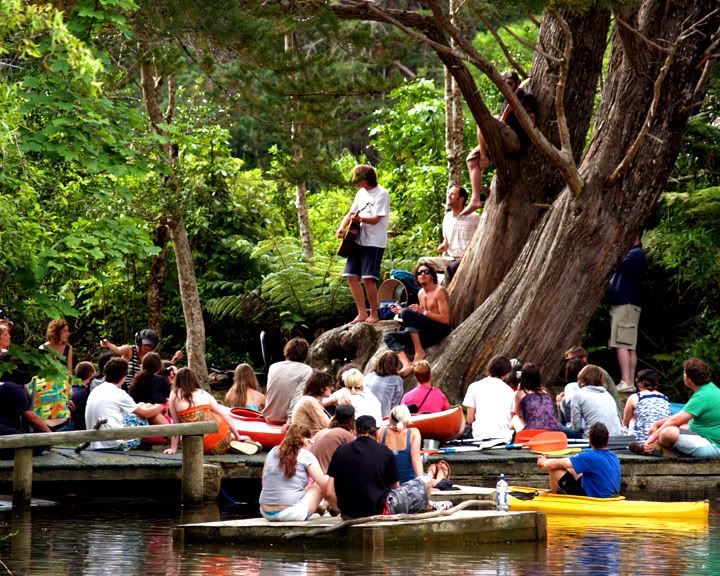 Inspired by Wet Hot American Summer, Welly photographer/promotor/man about town Blink decided to bring together a classic school camp with a selection of the finest indie up&coming bands New Zealand had to offer. Days of mayhem and Pant-free Parties followed.