Jealous Girls and Bad Kids
I keep meaning to post about all the fantastic international gigs that are about to happen in Wellington as summer kicks in, but what with the 2AWA and Blams fever, the launch of CHOICE magazine, the golden weather and the party season, I've been a bit slack.
So it is with some urgency that I draw your attention to two shows coming up in the next week:
Galesburg presents The Gossip and Palomino presents Black Lips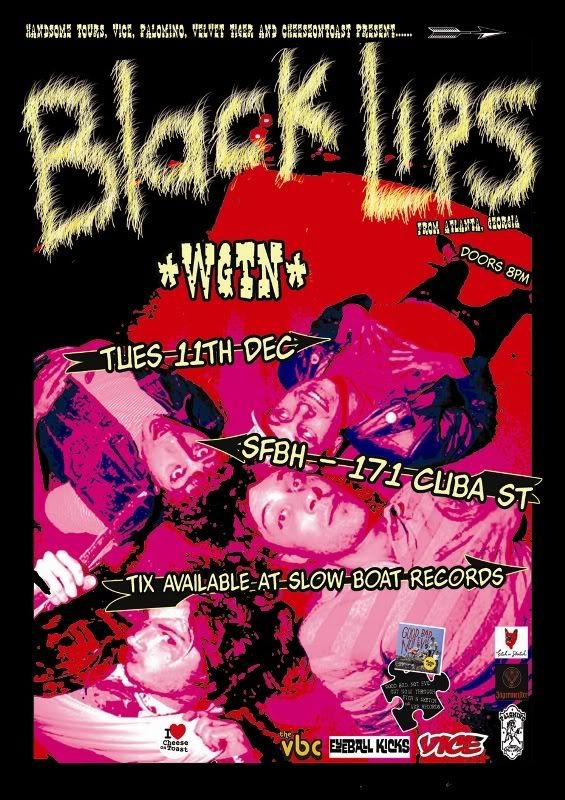 The Gossip play this Saturday night (8th) at the San Fran Bathhouse with locals Cortina, and Black Lips at the same venue next Tuesday the 11th with Knife Fight.
Tickets available from Slowboat Records, Cuba St.
Read more after the jump about both bands and supports…
Read an article about The Gossip and you'd be tempted to think the band is all about Beth Ditto being as comfortable with her weight as she is with dissing fellow musos, but there's so much more to this rock'n'disco soul band than, well, gossip. Listen here and hear for yourself. They'll be supported by Cortina, playing their first show in aaages, with singer Bek Coogan flying back from Berlin last week especially for this show.
Next Tuesday meet the all-boy antidote to the electro-femme Gossip when Atlanta's disowned sons Black Lips hit town, touring their incredible, razor's-edge-sloppy punk 3rd album Good Bad, Not Evil, putting the lysergic back into live shows with anarchic onstage antics and their peculiar brand of flower-punk/power-pop. They'll be supported by killer local trash band Knife Fight.
GET IN QUICK!
Tickets available from Slowboat Records, Cuba St. Both shows are on at the San Fran Bathhouse, Cuba St.