What to do on Waitangi Day this year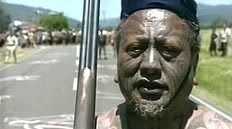 I've long thought that we should all (hospitality, police, emergency services & health workers not withstanding) have Wednesdays off to break the week into easily digestable chunks.
But if the thought of sleeping in, sleeping in even longer & enjoying a hearty holiday brunch, followed by more lolling around & maybe even a trip down to a cafe or pub… leaves you feeling slightly guilty, then I suggest you get into the spirit of the day & check out the official Waitangi Day Celebrations down at, where else, Waitangi Park:
Wellington will be celebrating New Zealand's national day in style, thanks to Meridian Energy Summer City.

Wellington City Council in partnership with the Wellington Tenths Trust has organised a Waitangi Day Celebration – Te Ra o Waitangi at Waitangi Park from 9.45am to 4.00pm. Featuring kapa haka, drumming, dance, multicultural acts, food and stalls, it promises to be a great day out for the whole family.
Much, much more info is here.