(Last Minute) Ode to Love
Yes, it's Valentine's Day again. There may be some of you out there in need of last minute inspiration to "score brownie points". Don't you hate those bill boards trying to get men to buy flowers around town? They are almost as limited in their conception of masculinity as this little beauty: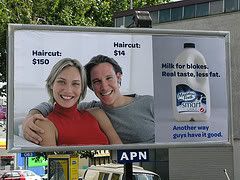 [contributed by Robyn of the Aucklandista.]
Those of us holed up in the Molesworth precinct earnestly "leveraging" this, getting "traction on" that and generally "actioning" the hell out stuff all day long, hardly need Valentine's Day as an excuse to have a wee -tipple. Fortunately Cellar-vate on Molesworth are having free wine tasting from 4:30 till 6:30 this afternoon, and they are promising bubbly no less! So grab your office-bound honey and head on down.
I am going to avoid any cliched suggestions involving flowers or chocolate but spare a thought for all the Japanese office ladies who suffer through the Japanese version of Valentine's Day where the onus falls on the woman to buy men chocolate and flowers. One month later, on White Day the men reciprocate three-fold, read into that what you will.
The top tip for Valentines Day, in this office lady's opinion, is the Karori Wildlife Sanctuary. They are having an adults-only night at the Sanctuary (oh la la) tonight with free boat rides on the lake, birdsong at dusk and most importantly, no children. They are open until 8.00pm so get a babysitter and get back to nature.
(Ed note: we take no responsibility for anyone caught getting really "back to nature")