Reasons to be cheerful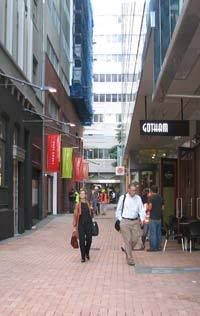 OK, so a fly can get snarky occasionally, but there's plenty to get excited about. The new Chews Lane has finally opened, and while only two of the hospitality businesses there have opened so far (Fresh Take for salady sandwichy stuff, great for preventing diabetes, and Emporio for some sweet, sweet caffeine), two more (Gotham and 3C) are due to open tomorrow and next week respectively. Gotham looks to be mostly a day-time café, but it will be licensed. 3C (named after the early building owners, the Colonial Carrying Company) will be a "gastro bar", and while that conjures up awfully Hope Bros-ish images, a peek through the windows reveals some relatively interesting touches to the decor, so it could be worth a try.
There are plenty more (re)openings on the horizon: after the jump.

Word is that Wagamama at Kumutoto will be opening about the middle of next month (the date May 17th was being bandied about).
The former Last Supper Club has reopened as Lagerfield. Anyone tried it yet?
The ill-fated Imerst is also set to reopen. I know, it seems like one of those cursed sites (Phoenix, Stage, Imerst), but gossip suggests that a top gun interior designer is on board, so these guys are serious.
Speaking of ill-fated, the long-empty Allen St spot that was once Mates and the Play may be opening again, though not in the immediate future. Did someone order a taxi?
Simply Paris closed in February after a fire, but looks ready to go again. What's more, they've taken the opportunity to tidy up the twee decor.
Another place set to rise from the ashes (no, not Phoenix) is Burger Fuel. No word about Cubita: I miss those plucky guys and their cute little café.
Who is Duke Cavell, and why are we so excited about his Emporium?