This Is What it Sounds Like When Nuns Fly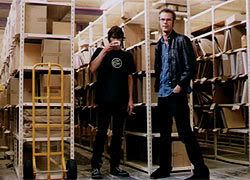 For the last few weeks there's been an air of rockin' excitement passing around Capital City… and lots of flights being booked down here from that place up north that houses the Aucklandista. Reminiscing on social networking sites has reached a frenzied peak and the rumours have been proved true – the Hasselhoff Experiment are reforming for a once-only show this weekend in Wellington.
More after the jump….

The 'Hoff started out in Wellington in the '90s, moved to Auckland, played on the back of a flatbed truck as it drove through Orewa, put out 3 records (1 on frontman Andrew Tolley's label Kato, the other 2 on our beloved Flying Nun), made some killer videos with the Back of the Y boys and generally just ruled all over all the other noisy rock that came out of the grunge decade. After going their separate ways the twosome continued to make music elsewhere – most notably drummer Brendan Moran in Knife Fight (Wgtn) and guitar slinger Tolley in the Bloody Souls (AK), but a special birthday request has seen them get together for the first time in years (maybe even a decade?) to play this Saturday at the Adelaide on Adelaide Rd.
Joined by another band that hasn't played in a while – the caveman-cloaked Voodoo Savage and His Savages – and Aucklanders Golden Axe, the Hasselhoff Experiment will be showing their chops in front of an excitable crowd – this from the Facebook events page pretty much sums it up:
"YAY!!! We gonna party like it's 1999!!! Except I've given up drugs, I now don't drink as much, I get painful twinges in my back when I perform simple dance moves and I'll probably have to get up early the next day to perform parental duties. But apart from that – we gonna party like it's 1999!!! F*CK YAY THE HOFF!!!"
If you saw them in the 'olden days' it's a chance to revisit your youth (with earplugs), and if you missed out then do yourself a favour and see what all the fuss is about. It's going to rule.
To get you in the mood you can watch the 2 vids made for them by the Back of the Y team (who, incidentally, have a new series starting on C4 next week – or the week after, the C4 website isn't very helpful) on the Amplifier website here
See you there!