Shaping Adelaide
The Wellington City Council is seeking public input on how to guide the future growth and change of the Adelaide Rd area. This is a vitally important part of town (especially now that the Wellingtonista seems to be turning into the Newtownista), and I invite you all to have a look at the detailed draft framework and imagine for yourself what this currently somewhat neglected district could become.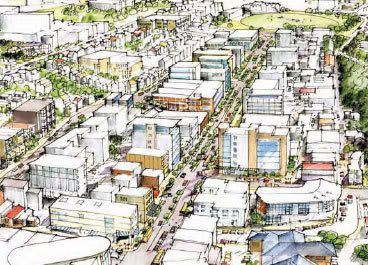 But first, let's clear up a few of the misconceptions which could have been gleaned from the brief articles in the press:

The "Adelaide Rd" area doesn't cover all of that road, just the stretch from the Basin Reserve to about John Street.
On the other hand, it also expands to include the side streets, from Wallace St to Government House grounds, so that the issue of how to blend between a large arterial road and smaller-scale historic residential streets can be addressed.
Don't take the artists' impressions too literally: they are just rough ideas of the scale and type of growth anticipated over several decades, rather than actual designs.
It's not just about wider roads! Yes, it suggests that Adelaide Road will be widened in parts, mainly to accommodate bus/cycle lanes and a planted median, and with an eye to potential light rail lines in the future. But there's also been a huge amount of investigation and community consultation to investigate all the aspects that make up a city: heritage; ecology; public spaces; balancing residential, commerical and retail uses; walking and cycling connections; community facilities. These maps show just some of that thinking.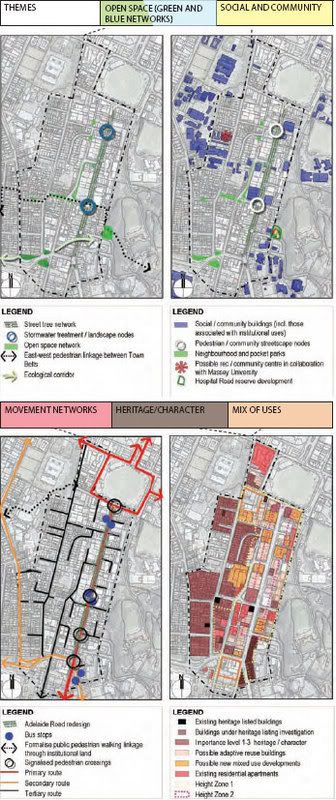 You have just under a month to get involved, as submissions close on the 10th of October. Even if you don't live there, commute through it or hang out at The Adelaide or Space Thing, it's worth taking some time thinking about how this district could live up to its full potential.