People's Empire
Newtown may or may not be a bit shit, but their right-on coffee company People's Coffee (sorry, I couldn't resist adding the apostrophe) certainly know their shit. Their presence in central Wellington is expanding, and two recently-opened cafés proudly stock the People's brand: Meow and Mon Ami.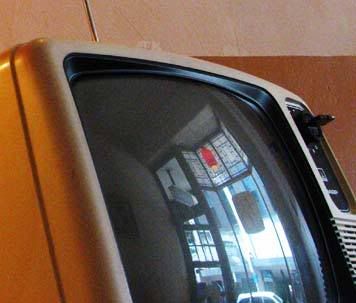 Meow has taken over the space of the former (and much lamented) Roti, next to Quoil in Willis St. The decor's only had a mild makeover, but the retro kitschy kiwiana theme is pretty consistent, with the usual Tretchikoffesque prints, orange lampshades and '70s TV augmented by some nice chunky crockery. I haven't eaten there yet, but the brunch menu included some interesting variations on the standards, such as pinenut & saffron scrambled eggs, cashew & cranberry rosti with haloumi and rocket, and all sorts of things with "wild" bacon.
In Bond St, a French café called Mon Ami has also recently opened. It's interesting that while many French places in downtown Wellington emphasise the stylish urban theme (e.g. Simply Paris, Le Metropolitain), Mon Ami is full of outdoorsy magazines, and their website goes on about "tramping, sailing, kayaking, biking, paraglyding". The decor manages to look both rustic and sterile at the same time, but even if that's not your thing, dishes such as rabbit terrine and roquefort & sultana loaf (at reasonable lunchtime prices) should be enough to tempt you in.