Super Fry
Stephen Fry, actor, author, wit and geek, is on his way to dear sweet Wellington and we are rather excited!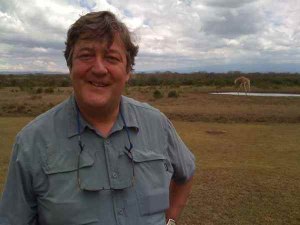 He's coming to Aotearoa New Zealand to film some bits for a BBC series he's presenting, Another Chance To See, where he's travelling the world, checking up on endangered species. While he's in Wellington, he'll be visiting the Karori Wildlife Sanctuary to see how the kakapo tuatara are doing (rather well, thank you).
Oh, but this is no ordinary visit by a sleb.
Mr Fry, being a glorious geek, has been utilising the modern powers of the interwebs to document the filming of the series.
He's been making regular tweets to his Twitter account (and fostered a Twitter community of Fry fans), uploading photos from his iPhone, posting video blogs of his African adventures, and just generally keeping a full and interesting website, documenting his travels.
This is great news for all! Because it means that instead of getting out there and stalking him when he's in town, you can actually spend that time lying around, drinking yummy Margaritas and keep up with Mr Fry's adventures with the laptop in your tiki shack, instead of having to go to the effort of getting out and stalking him.
(Of course, if you do happen to see him out and about, let us know!)