Cinephilia: Opening This Week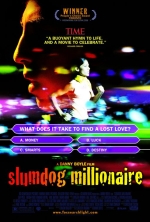 More Oscar contenders hit our screens this weekend. Gus Van Sant's biopic of the first openly gay elected politician in the USA, Milk opens today at Readings, Penthouse and Lighthouse Petone. Sean Penn plays San Francisco city supervisor Harvey Milk who was assassinated by fellow city official Dan White in 1978. Penn is supported by Josh Brolin (No Country for Old Men), Emile Hirsch (Into the Willd) and James Franco (Pineapple Express).
I got to see Slumdog Millionaire last Friday at the Embassy – if it doesn't romp home with the best picture Oscar I'll be very surprised. Kinetic, colourful and heartfelt, it's an object of great beauty. Slumdog is also playing Readings, Penthouse and Lighthouse Petone.
[The rest of this week's releases – and there's heaps – after the jump]
The Paramount is opening three more wee-indie battlers this weekend: Kiwi micro-budget feature The Map Reader stars Rebecca Gibney and is set around the picturesque Kaipara Harbour. It's a coming-of-age tale and it isn't too challenging. The second Paramount opening today is Sparkle, a British comedy featuring Bob Hoskins and Stockard Channing ("The West Wing").
When Swedish vampire drama Let the Right One In played at the Festival last year I slept through some important scenes and wokeup unmoved. Further discussion with people who saw the whole thing prompt me to look at it again this weekend: Paramount exclusive.
Tom Cruise's long-awaited new drama Valkyrie is about the plot to assassinate Hitler in 1944 and, in addition to Cruise, there's a parade of great talent on display including Bill Nighy, Kenneth Branagh and Eddie Izzard. Readings, Empire, Penthouse and Sky City Queensgate.
Finally in a busy holiday week, Sex Drive is a gross-out teen sex comedy boasting a cast featuring nobody you've ever heard of. Readings and Sky City Queensgate.
Meanwhile at the Film Archive the Holocaust documentary Les Survivants gets another run out on Saturday at 7.00pm and the excellent fun Scarfies by the Sarkies brothers plays next Wednesday, at the same time as the French Film Festival has its gala at the Embassy.
Slumdog Millionaire and The Map Reader were reviewed in this week's Capital Times (and on Funerals & Snakes tonight), the rest will appear in next Wednesday's edition (and online soon after).