Smarten yer Snapper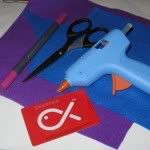 A few weeks ago, when we went to talk to Snapper, one of us mentioned how many people we see using cards still fastidiously wrapped in their original clear plastic wrapping.
We thought that, just like the plastic couch covers your house-proud aunt never ever did remove from her new lounge suite, these wrappings need to be torn off, and the card within liberated and made personal.
Well, it now turns out that thanks to Craft 2.0, the solution to this problem is at hand. It involves you.
Craft 2.0 are running the Smarten Your Snapper competition. All you need to do is make some sort of nifty cover, holder, or cosy for your Snapper card (or Snapper USB) and enter it into the competition for a chance to win a new Snapper card pre-loaded with $100. In addition, you could win a table at the next Craft2.0 at the Dowse, giving you a place to market your creation.
Full details are on the Craft 2.0 website, together with a couple of starter ideas.
Get busy: competition entries close on September 1 August 27!