Maranui we miss you already
Shortly before 1am last night fire engines headed out to Lyall Bay trying to save Maranui Surf Lifesaving club and Maranui Cafe.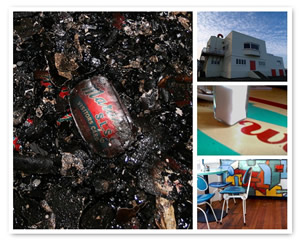 At the moment it doesn't look so good.
I will miss their milkshakes most.
Some pix…
What was your favorite thing to consume at Maranui?
If you've ever been walking along Lyall Bay
In the bright shining sun on a hot summer's day
Or could a storm be brewing and blowing a gale
Your poor teeth chattering and skin turned pale
There's now a place you can head for a cuppa
For tasty snacks and freshly cooked tucka
Old Maranui now has a cafe inside
Her bright red doors are opened up wide
Seven days a week our life savers make
A sumptuous selection of Wellington's finest cake
There is no question we are certain to say
The Maranui Cafe makes the best coffee in the bay
And served to you by Matt and his team
Of friendly surf staff and baristas supreme
So put on your shoes or jump on your bike
And be sure to bring along someone you like
We always like to see somebody new
And don't forget to sign the member's book too
Update
Flickr user Scorched has put up some more photos from the fire, including heartbreaking pics of the charred interior, and a photo of a melted fireman's helmet.