Cinephilia: Opening This Week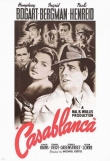 I think the highlight of the Wellingtonista cinema-going week is likely to be a toss-up between the wonderful Vanguard retrospective at the Film Archive or the restored print of Casablanca. The Paramount has been bringing back the venerable old favourite regularly for the last 20 years (always with newer prints it should be said) and it's still a big draw. Do you need to know the plot? Read Tom G's summary here at Ornery World. Two shows a day until Sunday.
Fresher fare is on offer elsewhere but nothing is likely to be as satisfying. Atonement director Joe Wright returns to the screen with a modern day drama (and more Oscar-bait), The Soloist. Jamie Foxx plays a gifted cellist, blighted with mental illness and Robert Downey Jr is the hack who befriends him. Readings, Empire, Penthouse.
[The rest of this week's new releases after the jump]
In even wider release is The Young Victoria, a prequel (of sorts) to the Mrs. Brown film about Queen Victoria a few years ago. Emily Blunt finally gets the leading role she deserves after second-banana roles in films like The Devil Wears Prada, Charlie Wilson's War and Sunshine Cleaning. Meanwhile, the management at the Embassy quietly spews that they have to drop District 9 sessions to play it. Also at Readings, Empire, Penthouse and Lighthouse.
Paris 36 is a glossy, backstage melodrama set in the glamorous world of Paris music hall between the wars. Ebert describes it as "creaky" but "pleasant and amusing". Penthouse (of course) and Lighthouse.
Sunday also sees a few sneak previews of Disney/Pixar's Up (in 3D and 2D). Not to be confused with the Russ Meyer boobiefest (Up!), this one is written and directed by Pete Docter who made my personal favourite Pixar film, Monsters Inc.
The phrase "national treasure" gets chucked around a lot these days but never has it been more appropriate than when talking about Vanguard Films, a documentary film production company with indomitable independent spirit. This year they celebrate their 30th anniversary and the Film Archive is helping them blow out the candles with a two week retrospective of their work. I've been to two nights so far and the portrait of New Zealand in the Muldoon era is terrifying. Only Muldoon could have come to power by threatening people with "dancing cossacks" and then control wages and prices for everyone just a few years later.
For students of Wellington history, The Hatred Campaign from 1985 was remarkably instructive. When a mysterious bomber murdered Trades Hall caretaker Ernie Abbott on Vivian Street in 1984 it was the culmination of a campaign of vitriol and hatred against the Trade Union movement and the left generally. The response was passionate and moving and the film shows the eulogies at a packed Town Hall and then a thousand people marching behind Ernie's coffin along Cuba Street (past the current site of the Archive) to the site of the atrocity.
The Vanguard retrospective continues through next week and I urge you to try and get to at least one of these films and then ask yourself, what happened to progressive politics in New Zealand?
All the new releases will be reviewed in next week's Capital Times and eventually online at Funerals & Snakes. Feel free to weigh in here in the comments about your movie watching this weekend.