The future of Lyall Bay
Right now the Dominion Post is running a public opinion poll on the future of the Maranui Surf Club and Cafe.
At this stage the Council's preferred option appears to be demolishing Maranui and its three adjacent buildings to create a brand spanking new "Super Building". You can hear the collective groans from here.
It was the heritage and character of the building which made it such a popular destination for Wellingtonians and out-of-towners alike. As a Lyall Bay resident it's been obvious how desolate the Bay has become since the fire.
Let the City Council know what you think via the poll right now.
In the meantime….you can get your Maranui fix with their world-famous salads, available now from Moore Wilson's Fresh. Apparently the punnets are big enough for two.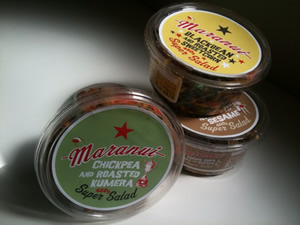 Cold comfort though.