Nothing to See Here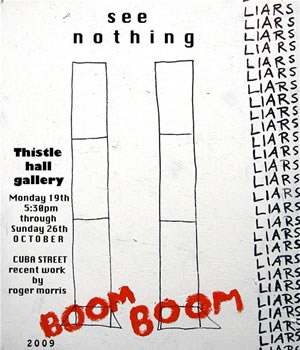 As Robyn has rightly pointed out, tonight is Pecha Kucha at Downstage at 7.30 (get there early if you are going).
Tonight is also the opening of Roger Morris's new show "See Nothing". Once again things are getting political, this time with a show based around "WHAT IF"? 9/11/2001. Roger uses oil, print, graphite, monopoly boards, jigsaw pieces and repurposed generic landscapes to explore the theme.
Everything kicks off at 5.30 at Thistle Hall on Cuba Street. Take a look at some of the works on the Facebook invite, if you are lucky you may be able to fit in Pecha Kucha afterwards.