1 sleep till Craft2.0
Think shopping, handmade, free treats, free making and outdoor knitting, plus cupcakes and craft – loads and loads and loads of craft – and you have Craft2.0.
It's being held at theNewDowse this Saturday October 24th from 11am till 3pm.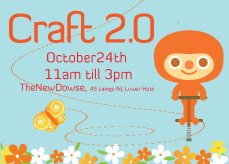 It costs nothing to turn up and if you are one of the first 100 people through the door at 11am you score a FREE goodie bag from Craftrunner chock full of treats, including goodies from felt.co.nz, Cafe Reka, Teza iced tea, Supervery, Emma Makes and more. Plus there is tons of to-die-for swag from the Craft2.0 raffle and so much more.
Typically over 60 booths are present selling everything from glittering unicorn pins to hand printed t-shirts. If you are a fan of indie fashion, then you've found your DIY paradise. The best part is meeting the crafters behind the styles and seeing how some of their creations came to life.
What kinds of crafts will you find? Well, you won't find any of that mass produced or imported stuff here, no siree! There'll be surprises galore including reconstructed clothing, punk rock baby clothes for that little Sid or Nancy, handcrafted jewellery, whimsical and demented plush toys, hand-spun yarn, screen-printing, avant-garde art and much more.
Best of all, Craft2.0 is more than just shopping. Kids of all ages can design and create their own magical masks. Whether you're a bird lover or are just looking for something exotic, feather masks are a great craft project. These beautiful creations work well as costume pieces or decorations. and it's free.
Participation from Wellington's legendary Outdoor Knitters round the fair out. You can hang out with experienced knitters, who can teach you some new tricks or if you've never knitted before they'll get you started. Needles and wool supplied all you need to do is bring yourself.
So yes you can go to craft2.0 and just enjoy the fun, get your craft on and spend no money. But you probably will want to buy things though!