Cinephilia: Opening This Week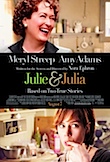 It's Labour Weekend and, as such, you can pretty much guarantee that the weather will be filthy and the movies will be the place to be. So, what is there to choose from?
Nora Ephron made Sleepless in Seattle back in the day (and wrote When Harry Met Sally) and now she has cunningly merged two best-selling books into one film – Julie & Julia. On one hand Julie Powell (Amy Adams) attempts to cook every recipe in Julia Childs' famous cookbook for a blog project and on the other hand Meryl Streep portrays the real Julia Childs and her transformation from American intelligence agent to one of the great cooks of Europe. Readings, Empire, Penthouse, Embassy (sharing with the Italian Film Festival), Lighthouse, Sky City Queensgate.
If that isn't enough food for you there's the documentary Food, Inc. which is about our industrialised, corporatised, food production and the damage it is doing to us and the planet. Readings, Paramount, Lighthouse.
Readings is pursuing the arthouse market (using the otherwise invisible Angelika brand) and is screening James Toback's fascinating documentary about Mike Tyson, back from the Festival. Their arthouse credentials are brought into question somewhat by the proximity of Saw VI, the latest in the sadistic, torture-porn franchise and the big dumb sci-fi thriller Surrogates starring Bruce Willis. Both can also be found at Sky City Queensgate, which also has an exclusive arrangement to screen the otherwise straight-to-video Tinkerbell and the Lost Treasure for all those kids who are back at school.
All these films will be reviewed in the Capital Times next week (and online at the new-look Funerals & Snakes). Have your say in the comments.