Flying in and switching off
The Oaks complex sometimes seems like a hospitality Bermuda Triangle: fast-food joints and dodgy convenience stores jostle with bars of almost unrelenting crapness. But something's about to land that looks much more promising: Memphis Belle Coffee House.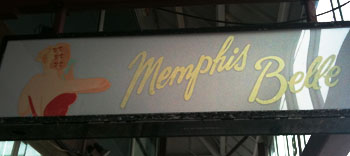 With a barista who just came second in the regional champs, a serious-looking range of Flight beans from their Napier home base and glimpses of an interior that looks vastly more sophisticated than its predecessor (not that that's saying much), Memphis Belle might just put the Oaks curse behind it. It should be opening this week, and definitely seems worth checking out.
On the other hand, it looks like it might be lights out for a bar that was never exactly this fly's favourite place: Electric Avenue. There was a skip outside this weekend, gradually filling with neon-painted MDF as the gaudy interiors were ripped out. It's quite possible that it's just a particularly violent renovation, but it all seems rather sudden, and their Facebook group has been silent for a month. Is there anyone out there who will admit to being a regular and can confirm or refute its demise? And what are the chances of getting a decent bar to replace it? Given the location in Munter Central, I guess the most we could hope for is a bar that can at least spell its street address on its website.