Pecha Kucha 7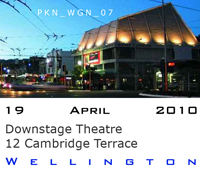 It's time for another Pecha Kucha evening.
For the uninitiated, a Pecha Kucha evening consists of a number of speakers who present 20 slides, talking about each slide for 20 seconds each.
The details:
Monday, 19 April 2010
Downstage Theatre, Cambridge Terrace
Doors open: 6.30pm, start: 7.30pm
$9 cash doorsales only
This one is going to be awesome for two reasons:
1. It will incorporate the set for Downstage's current production, "Biography of my Skin", which features a giant video screen – perfect for PK presentations.
2. The Wellingtonista's own Tom will be one of the speakers! Yes, our Tom will be giving a talk "about a sentence by Baudelaire". What is that sentence? Well, you'll have to come along to find out, etc.
After the jump, the full line-up.
The line-up
Roger Walker // architect / car enthusiast // dancing with the cars
Peter Wilson // artistic director // capital e national theatre for children // my heritage and inspiration
Fifi Colston // author / illustrator // the birth of velvet, a wearable art piece
Spencer Levine // designer
Gerbrand Van Melle // media designer / intercept > decipher > participate
Sam Trubridge // performance designer/director // Drawing: the performing page
Briar Monro // arts consultant // connecting creativity
Chris Moller // architect // click-weave space-time sketching // Tommy Honey // director film school // street crime
Ravi Kambhoj // photographer // urban fusion
Lorenzo Buhne and Kedron Parker // musicians // about the bite of the tarantula
Tom Beard // urban designer // about a sentence by Baudelaire
Eric Dorfman // director // the affair of the diamond necklace, an interactive theatre event
Marcus McShane // designer // sustainable contraption