Carmen's a bitch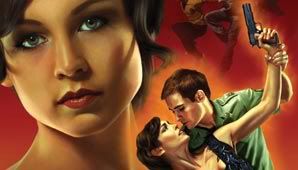 Tonight saw the opening of the Royal New Zealand Ballet's Meridien season of Carmen.
Set in the metropolis of modern-day Rio de Janeiro, Carmen works in a cigarette factory by day and hangs out with a gang of low-life criminals by night. When José makes the mistake of falling in love with Carmen, things spiral out of control. As José's world falls apart, Carmen's desire to live life on her terms sets a course that can only lead to disaster.
The ballet is based on the opera by Bizet (Wikipedia contains some serious spoilers, of course), but this ain't your grandpappy's ballet. Gangsters tote cellphones, a bullfighter has become a rockstar, the seedy bar has soccer on its TV. The result is a steamy piece of theatre that crackles with sexuality, while still being crammed full of playful humour and heated tension.
I'm not a dance expert, but I'd say that this production uses a lot of elements of modern dance as oppposed to straight ballet. There is a lot more swagger from the guys in their leather jackets. Carmen shakes her ass in a pair of tight jeans, while in her sparkly gown and heels she comes across like Cyd Charisse, all legs and sex.
And let's talk about the set design! Harsh chainlink fences at the cigarette factory are incorporated into the choreography, neon signs light up the bar, and an iron bed is a stage for some incredible foreplay. The sets all seem very stripped back and simple, but it's obvious how much thought has gone into them. The Vector Wellington Orchestra play alongside the action on the stage, and seem to have a lot of fun with the bugle-heavy score.
I was really happy to see that the audience lived up to the effort of the show, with some people wearing gowns or tuxedoes. We left with our hands tingling from clapping so much, and hearts full of lust. Go see Carmen. There are no tutus, but there is a lot of passion.
PS: in the interests of full disclosure, I was given the tickets for free because apparently I am a "key influencer" which is an interesting marketing tactic on the part of NZ Ballet.