Eric Fisher has been geomapping Flickr photos of cities around the world. He tracks the locations of photos taken by locals (blue) and tourists/out-of-towners (red). This is what Wellington looks like: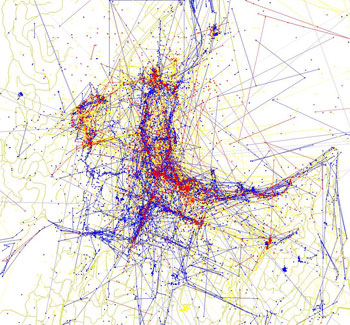 There are noticeable tourist areas around Te Papa, Mt Victoria lookout and Parliament. Tourists and locals are both dominant along Courtenay Place, Cuba Street, Lambton Quay and the waterfront. Aro Valley gets a locals-only burst of blue, as do Te Aro streets off the golden mile.
The New York version of this has been touted as a way for locals to avoid tourists, but the way Wellington's compact geography works, there's really nowhere to run. And besides, our tourists are quite nice.
Click though for a look at the bigger Wellington photo, and if you have any observations (or corrections of my notes!), share them here.