Smell the 'glove
It may not be what we were expecting from a "West Hollywood lounge experience", but all that money certainly has ensured that Foxglove is a vastly more impressive visual experience than the ol' Loaded Hog. But a bar is not just about the pretty, so how does it stack up? See what the 'fly thinks after the jump.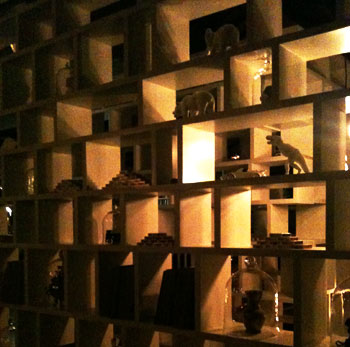 Beer: For an alleged brewery, the Loaded Hog always served dreadful beer. Foxglove's selection may not impress dedicated hopheads (get thee to Hashigo Zake!), but there are a few quasi-interesting drops (Leffe Blonde, Little Creatures) amongst the dross. It's just a pity that the drinks list can't spell "Hoegarden" (sic) or "Guiness" (really sic).
Wine: The wine list is solid if unadventurous, with an emphasis on familiar, easy-to-drink varietals, and a decent selection by the glass. It's all very Kiwi-centric, with a few Aussie reds, and while I'm all for a sensible approach to reducing booze miles, it would be nice if more bars realised that there's more to Europe than Champagne and Port.
Cocktails: The house cocktails are an admirable blend of neglected classics (Income Tax, Aviation, Aperol Spritz) and more recent concoctions … though shouldn't we be thoroughly over the Falling Water by now? This fly is yet to try any of their more specialist recipes, but our cocktail experiences here have ranged from a couple of more than serviceable Martinis to what one acknowledged expert described as "the worst Manhattan of his life". Oh dear.
Food: After a rare rave review from David Burton, we had to try the food, and in general it did not disappoint. There's the odd fusionesque touch, but most of the menu leans towards modern European, with an emphasis on luxury ingredients such as truffles, venison, oysters and foie gras. They can play fast and loose with definitions (just what is "Wagyu farm lot reared venison" when it's at home?), but there are some truly delicious dishes to be had, such as the roast duck with lavender and Valrhona chocolate reductions.
The sides are just as mouth-watering, and the small plates range from adequate to delicious: sorry, geese, but the foie gras parfait with fig jam & cornichons was worth your sacrifice. A word of warning: the mains look like good value at mostly $23-29, but despite the generosity of the meat servings, most come with no starch or veg, so plan to buy some sides.
Music: On one occasion there seemed to be a jazz band warming up early in the evening, but it's mostly piped tunes, tending towards the loud side. There's the usual boomer-friendly "classics", and a relatively inoffensive cross-section of recent pop, plus a few surprisingly quasi-hipsterish choices such as Ladyhawke and LCD Sound System.
Decor: There certainly are some spectacular set pieces to justify the megabucks, such as the two-storey living wall and the green-tiled main bar. The spherical hanging lights & baskets outside worked rather nicely, though the outdoor booths looked rough and unfinished. Having a collection of random knick-knacks seems de rigueur these days (hello, Bettys), but the use of bell jars and uniform white paint (white-painted dinosaurs!) helps Foxglove's version seem slightly less arbitrary.
Converting a beer barn into something more intimate requires a careful approach to defining separate spaces, and that had mixed results. The dining area somehow manages to feel cold and isolated yet uncomfortably close to the ruckus at the bar. Voile curtains go some way towards dividing up one of the upstairs spaces, but when it's busy the crowds tend to blur all the distinctions between areas. The "Narnia wardrobe" almost works, but Foxtail just seems like a slightly quieter version of the main bar, which is a bit of a let down.
Service: On a quiet evening everything seems to go smoothly, but a busy Friday really tested the staff and systems. They deserve points for handling the Eftpos failures and bar queues with good grace, but table service struggled and things got just a little bit shambolic.
Atmosphere: So what does all this add up to? It depends upon the night, your mood and your expectations. On a fine midweek evening this would be a wonderful spot for a quietish after-work drink or a full meal. It suffers from the inevitable Curse of Lambton, so it's never going to be a bohemian hangout, but it's a definite leap up from the Hog. As a fly, I love a bit of a buzz, but Friday nights seem to get raucous with a post-office crowd without being entertainingly debauched.
So, if you're after a rather more stylish version of the Thistle or Occi, then this is definitely the place for you. If you want something more like the promised "lounge" experience, it would pay to book a table upstairs or in Foxtail. Things might settle down with time, but in the meantime, I've got my compound eye on a little place around the back: the former "Hugo's" is about to reopen as "Cuckoo", thanks to the McKenzie brothers … and they really know how to run a cocktail lounge.