Wellington Film Festival opens tonight!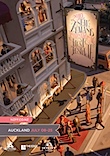 It's never been a tougher time to be running a film festival. In addition to the usual commercial considerations of just selling enough tickets to stay afloat, each year brings with it fresh wrinkles to be accommodated. The window of availability of titles shrinks every year because distributors don't want to sit on their investment. There's increasing pressure to get films into cinemas before downloading destroys the market and less time for films to build a deserving international buzz.
In previous years films like the Argentinian Best Foreign Language Oscar winner The Secrets in their Eyes might have been tent-pole features for a Wellington Film Festival but have already been and gone from local cinemas so it's incumbent on director and chief programmer Bill Gosden (and his cohorts) to dig deeper to find more gems for our annual mid-winter fix.
People keep asking me, Dan, they say, what sort of Festival is it, this year, and I have to answer that I really don't know. I've only seen 19 out of the 160+ movies in the book. That's not enough to know anything, really, about the Festival as a whole. It's less than 15% of an enormously rich and diverse smorgasbord of potential goodies.
As usual, I asked the Festival people to feed me the unheralded and unknown, the films that might miss out on attention from the big media, and they did. As might be expected, not all of them worked for me but I have some suggestions for films that I am assured will not be coming back on general release later this year.
In the drama section I was very affected by Honey, a beautiful Turkish film about a young boy with some kind of learning disorder, desperate for the approval of his teachers, classmates and his taciturn beekeeper father. A fine example of slow cinema, I feel certain that you will be absorbed by its beauty and the miraculous central performance.
The rest of the Wellingtonista preview, after the jump.
I Killed My Mother was a minor sensation at Cannes, winning prizes for French-Canadian enfant-terrible Xavier Dolan who produced, wrote, directed and starred in this semi-autobiographical tale of a priggish, self-absorbed gay youth, stuck at home with a mother he swears hates and misunderstands him. Surprisingly unsympathetic to his own alter-ego it comes across as a virtuoso apology to his long suffering parent.
Commercial cinema out of Spain is always worth a long hard look (e.g. Timecrimes two years ago, REC) and Cell 211 is a tight little prison drama with a great premise – during orientation new guard Juan Oliver gets caught behind enemy lines during a riot but manages to convince the leader of the cons, Malamadre (Bad Mother?), that he's actually one of them. It hits the ground running and rarely lets up.
I was very taken with Wah Do Dem, in which a moody New York hipster dumpee goes on a Caribbean cruise, loses everything in a robbery in Jamaica and has to walk the length of the island to the safety of the US Embassy. On his journey he sees the other side of the tourist brochure but his odyssey is an eye-opener for us too.
This year Ant Timpson's Incredibly Strange section is back on disgusting and degenerate form after a few years of tiptoeing around it's raison d'etre, so much so that even I am going to avoid most of what's on offer. I did see The Loved Ones, however, a low budget horror from Australia that reveals its macabre yet ridiculous sense of humour slowly but surely – a great calling card for young writer/director Sean Byrne.
Don't miss a very Wellington 'live cinema' event, Warren Maxwell's live scoring of the silent Hollywood-maori extravaganza Under the Southern Cross. A handful of lucky people saw this at the Film Archive earlier this year but it deserves a much wider audience for Maxwell's witty musical touches added to a unique slice of NZ cultura
l history.
I've had a ball with the documentaries this year. Salam Rugby is an often-surprising video doc about the against-all-odds success of the Iranian women's rugby team – never quite goes where you expect it to. The Most Dangerous Man in America and The Two Escobars are pretty straight televisual interpretations of two fascinating stories. In one, Daniel Ellsberg tells us how, despite being embedded in the elite US military machine, he tried to stop the Vietnam War by leaking the most incendiary documents imaginable – the Pentagon's own advice that the war could never be won. And in the second, the complex social and political entangling of drugs and football in Colombia lead to tragedy for everyone involved.
There are two great films about different kinds of American dreamer: Marwencol focuses on Mark Hogencamp, an artist who has built an amazingly detailed living model world for himself to replace the one he lost when a brutal attack outside a bar took his memories and nearly took his life. And local hero Costa Botes has stumbled across a modern day Willie Loman in David Klein, inventor of the Jelly Belly gourmet jelly bean, cheated out of his rightful share of the profits (US$160m!!) due to, I guess, naivete. Klein is one of the great characters in the Festival and Candyman a terrific introduction to him.
Finally, a big enthusiastic recommendation for Asylum Pieces by Wellington filmmaker Kathy Dudding. I was a big fan of her last film, The Return (2008) and I'm stoked to see her gentle, poetic style develop further and mesh with a more gritty documentary subject – in this case the bizarre and banal history of Porirua Mental Hospital.
Printed in Wellington's Capital Times on Wednesday 14 July, 2010. Cross-posted to Funerals & Snakes.