Nerd Alert – Week of Geek
It is reassuring to know that the salon did not die in 18th century France, gathering together in RL to converse, spar, eat, connect and display our intellectual charms has not gone out of style. Recently we have had Pecha Kucha, Ignite and more BarCamps than you could throw a pack of PostIt notes at. Today the open source inclined have been playing with their toys at Software Freedom Day and this week is full of occasions to be witty and pretty and geek (slash nerd).
This week brings Nerdnite#2, another Tuesday night dinner and Webstock will be bring us mini-marvels and the big unveil of the speakers for 2011.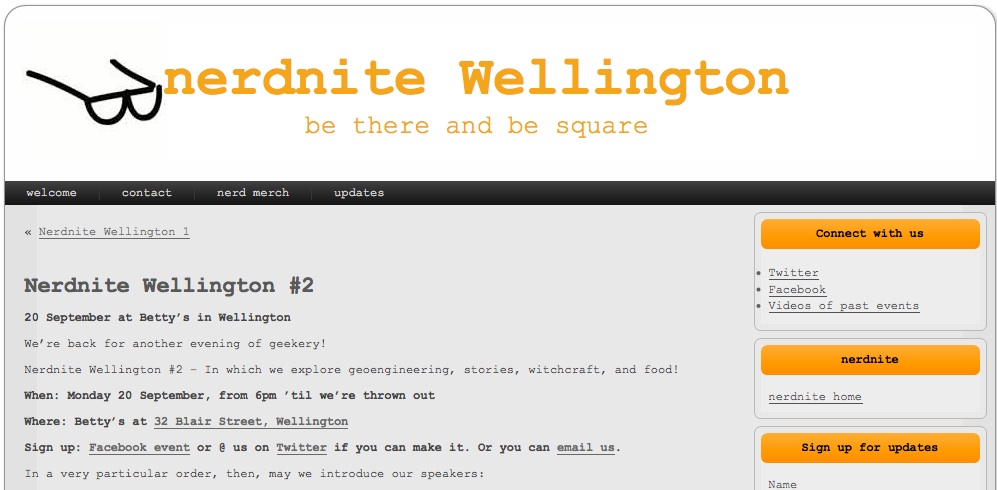 All of these events are non-geek friendly (plenty of room for fraghags), all you need is an eclectic mental diet and a love of creativity and innovation, so don't be shy. Nerdnite looks to be taking eclectic to a whole new level with geoengineering, stories, witchcraft, and food on the menu at Bettys Bar this Monday. It seems the case that people self-identify as geek but get twitchy when refered to as "nerds", well perhaps this word is going to be reclaimed as well if this Nerdnite thing catches on.
Besides, geek appears to be contested term, this week we have had @BR3NDA tooting about privilege and computers: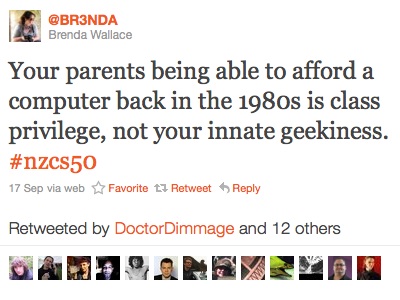 Look forward to seeing some of you in the over-lapping private and public spheres this week.