Review: The Second Test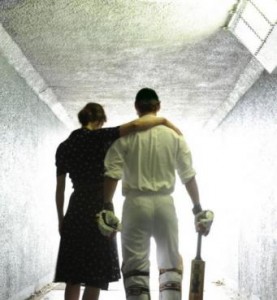 Jonathan Brugh's one-man play The Second Test returns to Wellington, this time playing at Circa.
The Second Test tells the amazing true-life story of New Zealand cricketer Bob Blair, whose fiancee Nerissa Love was tragically killed in the Tangiwai disaster while Bob was in South Africa on tour with the New Zealand cricket team (also the subject of an upcoming telefilm).
The play has a lovely New Zealand flavour to it, complete with that understated Kiwi character that gives this sporting story a delicate feeling. Coming in the wake of the Pike River disaster, it's a reminder of how there are always personal stories behind every national tragedy.
But it's not all tragedy – there are plenty of comic moments, and Jonathan Brugh captures the high-jinks of a bunch of young dudes going on a big overseas trip together. Actual home movie footage taken by one of the team adds to the sense of excitement the lads must have felt setting foot in the exotic country.
Upon seeing The Second Test at its first Wellington run at Bats, Wellingtonista and cricket nerd Dan Slevin remarked:
Brugh's play is a moving and beautifully acted treatment of the story. He plays dozens of parts (Blair & Love; cricketers Rabone, Reid, Sutcliffe, etc; Prime Minister Sid Holland) and imbues them all with fine detail and a sweet comic sensibility. He brings, not just the game to life, but the era – a different age.
Older members of the audience enjoyed the nostalgic look back at 1950s New Zealand, cricket (radio commentary via telegraph!) and the Tangiwai disaster, while for those of us not old enough to remember that time, it's an eye-opener into the way things use to be – and a well told, bloody good story.
The Second Test
Circa Theatre
Runs until 23 December