PhotoChop III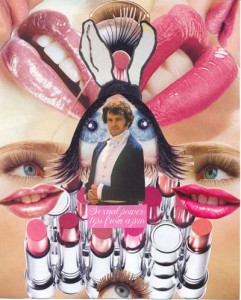 On this week at Thistle Hall is the biennial PhotoChop exhibition, centred around the art of collage. It's all about taking the ordinary paper materials, and with scissors and glue, turning it into something new, with a selection of fine works including repurposed postcards, a scenic Uruwera setting for Willie Apiata and a couple of fine posters celebrating the golden years of Britney Spears.
And the Word Collective even have a little table set up so you can create your own collage materials. (Seriously, one of my favourite pastimes is chopping up old gossip mags and glueing them together to create something new. It's most relaxing and enjoyable.)
All items are for sale, and are rather affordable at under $100 (most are well under that).
PhotoChop III runs until Sunday 23 January at the Thistle Hall, upper Cuba St. Open 10am-6pm daily.