Cinephilia: Opening This Week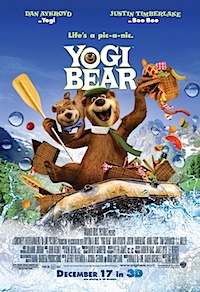 This weekend, film fans, you can watch the new animated Yogi Bear movie in two different formats, compare the two and then have an erudite discussion of the related strengths and weaknesses of the new "re-booted franchise" versus the beloved, barely 2D, original. Or, you can watch a drama about female circumcision. Tough call.
Dan Aykroyd and Justin Timberlake are the voices of Yogi and Boo Boo and if you look closely you might find some recognisable Kiwi faces amongst the supporting cast – Yogi Bear was shot mostly in Auckland last Summer. The 3D version is playing at the Empire, Readings and Event Cinemas Queensgate while the standard format is at … all the same cinemas! Price might be factor for some of you as there is still a premium charge for 3D – for a while at least.
Thankfully not in 3D, is campy musical Burlesque which brings together "legend" Cher with "legend" Christina Aguilera for a backstage story of rags to riches in the cut-throat world of Los Angeles cabaret: Empire, Readings, Event Cinemas Queensgate and a few sessions at the Embassy.
Ron Howard can usually be relied on to make something competent (when he's not in Dan Brown Hell) so I am moderately hopeful that The Dilemma will prove more interesting than the presence of Vince Vaughan and Adam Sandler's 2nd best mate Kevin James might indicate. Vaughan and James have been best friends since college. Vaughan discovers that James' wife (played by Hot Spock's Mom, Winona Ryder) is having an affair. Does he risk getting involved and jeopardising their friendship and their business together? Readings and Event Cinemas Queensgate only.
Finally, the Paramount is the only local cinema to hold the arthouse candle aloft. They are opening Desert Flower, an adaptation of the best-selling memoir by Waris Dirie about her life subsequent to, and her recovery from, a brutal circumcision at the age of 3. There's a good cast: Sally Hawkins (soon to be starring alongside Rhys Darby in Love Birds), Juliet Stevenson and Timothy Spall feature. Beautiful Ethiopian model Liya Kebede plays beautiful Somalian model Dirie.
All these films (and the rest of the summer holiday openings) will be reviewed at Funerals & Snakes next Tuesday and in the Capital Times newspaper on Wednesday – space permitting. In the meantime, feel free to tell us all about your Yogi Bear experiences in the comments.