You can't trust the new real-time bus system; don't
Earlier this month Alan heralded the beginning of the roll-out of the Regional Council's new Real Time Passenger Information project. So far, though, I'm not happy. Just as numerous pieces of publicity in local and community newspapers have failed to alleviate my suspicion that the system is not all it is cracked up to be, numerous bad experiences have left me with little faith in the service it purports to provide.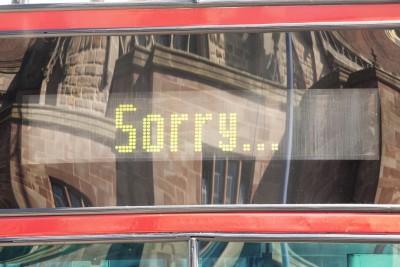 Once upon a time — let's call that time "Pre-RTI" — I had no particular faith in the bus time-tables: buses mostly turned up on time, but frequentlyregularly were late, or failed to appear at all. Now, in the time we'll logically call "During-RTI", the failure rate is more-or-less the same but the implications are far worse. Buses still run late, or fail to show up, but the RTI system doesn't match what is happening in the field and leaves the customer with LESS trust in the time-table.
Some examples:
This morning via the Metlink Live Departures page for my smart-phone, I determined I would catch the #18 University service which originates at Newtown Park/Zoo (stop #7923), departing 8.29 am. I waited at the stop from 8.24 until 8.40 at which time I caught the #10 Railway Stn service instead (more weirdness: see 2, below). At some time before 8.29 the #18 entry in the Live Departures list just disappeared. Where did my bus go?
I was watching and refreshing the Live Departures list between 8.20 and 8.55 and the 8.40 #10 never showed up in the list all — which was mildly disconcerting considering for a lot of that time I was sitting at the stop, looking at it and indeed rode it into town.
Once the 8.29 #18 disappeared from the Live Departures list, nothing else showed until the 9.22 #10 and #18 services were listed. Thus missing also was the 8.55 #10 service, which I am informed DID appear on time and provided a very timely service to the Railway Station terminus.
Another morning waiting in plenty of time at the Wallace St stop opp. Massey University (stop #7914) I watched via the smart-phone Live Departures listings my #10 service get closer and closer, until it sailed past me at 8.49, a good six or seven minutes early. According to my colleague in bus malarkey monitoring who was riding on it, it had left Newtown Park/Zoo (stop #7923) on time but made uncharacteristically good time through Newtown and hence was running very early. Around 8.48 the Live Departures page was listing it as 7 min away. Next moment it whizzed by, and shortly after that it vanished from the list altogether.
I have previously commented about what happened to my #10 which was meant to depart from Stop B at the downtown interchange at 6.15 pm one night. From about 6.10 the display read "10 Newtown Park – Due: 8 min" and remained showing that for about 10 minutes at which point the display changed and the #10 entry just disappeared.
Don't get the idea I'm only complaining about what happened to me or that my misfortune is particularly bad or anything — I'm not, it's not, and nothing particularly unfortunate has resulted. Many other people have probably had similar experiences though, and if you add all these experiences together it becomes obvious that the new system is not getting anywhere near its imaginable success factors.
It's also clear that the algorithms behind the bus RTI system and not coping with these extraordinary circumstances at all, and nor do they seem to be sufficiently taking into regard anything more than instantaneous user experience.  A bus simply shouldn't disappear from the listings — what, are they being vaporized by cosmic rays? Indication MUST be given when a service is cancelled, is coming through way ahead of schedule / has come through ahead of schedule, or anything else unusual.
If I'm being honest I have to admit that I'm actually incredulous, and frankly it's tempting to add that calling this system anything "Real Time" is a slur on the term and probably upsetting to anyone who is or has been involved with building real-time information systems. Without significant improvement, it's hard to see how the new scheme can be relied-on to give accurate information at all — and so you can't trust the old timetable and you can't trust the new "real time" system either. I'm just going to have to go back to cutting cards, or tossing blades of grass in the air, to work out when my bus is due.
[Epilogue: what kills me the most, though, is that Auckland have had a very accurate and competent RTI bus system for at least fifteen years — I remember marvelling at it on Dominion Road in 1997. Now we finally have one too, after years of rumour and hints; I really really want this to work out and succeed and everything. Hopefully this post can be seen at least in part as constructive criticism; I pray these glitches can be ironed out and our system kicks ass.]