The bookworms be out in force
One rather delightful advantage of the Rugby World Cup is the arrival of the Downtown Community Ministry Book Fair in July, two months ahead of its normal timing. One might feel a little put out that rugby is screwing with your life, but this Wellingtonista thinks it's the reverse. Personally I turn into a bit of a hermit come winter, a few things (Film Festival, WOW and Wellington on a Plate) drag me out of my cave, but mostly I like staying home curled up in front of the fire with a book.
Normally I have to wait till September to spend large at the book fair, but not this year. Around 20% of DCM's annual budget comes from the bookfair so it's a pretty important event and really, what beats going shopping and knowing that the money you spend goes to DCM's "ongoing support of disadvantaged and marginalised people living in Wellington City to achieve greater wellbeing and independence"?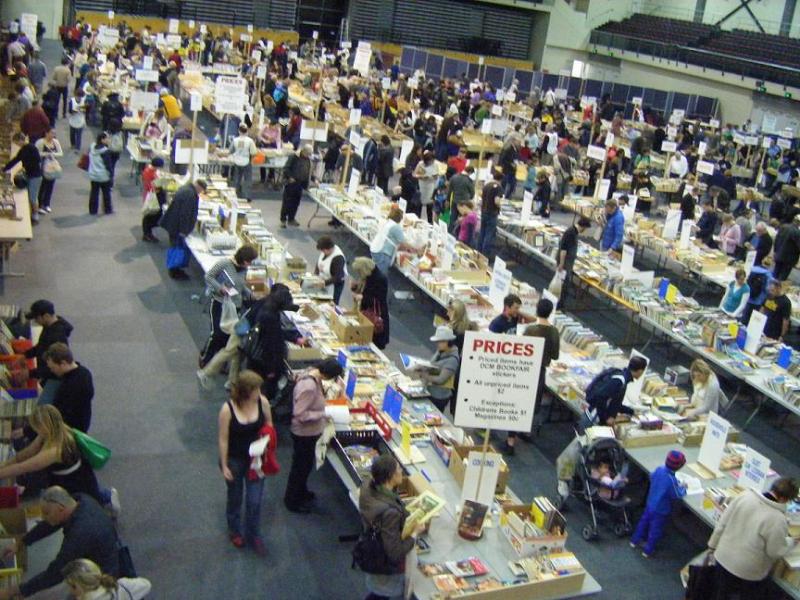 This Saturday from 9am till 5pm you'll discover a treasure trove of 80,000 books, CDs, DVDs, puzzles and records at the TSB Events Centre.  Helpers have been sorting books every Thursday and Saturday for the last few months whittling out the crap and getting things in order. That's meant there are more books than ever before, and more categories to make book hunting easier.
The bookfair continues on Sunday from 10am till 4pm. Traditionally Sunday's fair has been half price books, but not any more; while you'll get bargains on Sunday,  don't go along expecting everything to be half price. Before you complain consider this  – every dollar spent at the bookfair goes towards helping those most in need and everything sold at the bookfair is at stunningly great prices from the start.
Want to help but can't make it to the bookfair? Why not donate via DCM's GIVE A LITTLE page?