WOW 2011
It's WOW time again, and this year's show is the most amazing and extravagant yet. But was it too extravagant this year? I'll get to that later. Please note that this post will contain spoilers about the show, so if you're going, don't read it until afterwards okay? 
The Wellingtonista has a little pre-WOW game. We like to predict the common themes that'll be in the show. This year we thought there'd be lots of laser-cut designs (especially after last year's winning entry used that to an extreme), and the remnants of the steampunk trend. We were right on both accounts. Let's put this one down to collective consciousness.
The supreme winner was Hylonome by Mary Wing To of the UK. It's a horse-inspired piece made of leather, not unlike 2008 winner Ornithi-Maia, another detailed, leather worked, animal-inspired design with a spear. In the media room afterwards, I found it difficult to look at the horse head. Its eyes… they looked into my soul.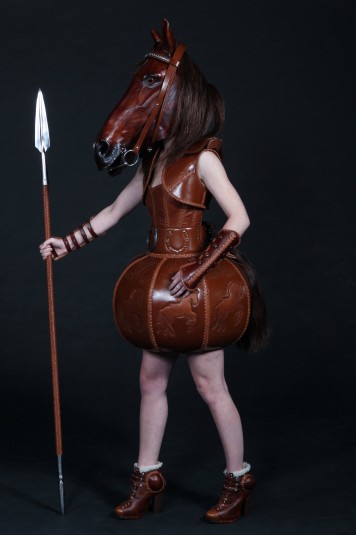 After the jump, more winners, the pitfalls of extravagance and the New Zealand where it's always 1953.

Ok, first the children's section, this year with a food theme. As always, this category attracts entrants that are less wearable art and more halloween costumes. But fortunately the judges choices were for more creative works. The winner was Pretzella, by Sean Purucker of the United States. I liked this design because it matched the shapes of pretzels, both loops and sticks, with the shapes we normally see in fashion. And also? If if you get hungry, you can eat your skirt.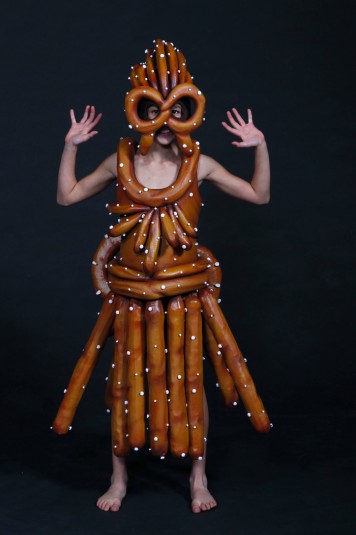 The glow-in-the-dark section is a fave of mine because it's always rool trippy as (although Joanna would still argue that it's too much of a holdout from WOW's Nelson years, and raves are like, so 1996, man). But this year's theme was surrealism, uppping the stakes. There was a strong floral theme this year, including the winner, I Ris(e) by Sue Cederman of Motueka. This creation with a giant iris flower with an eyeball that emerged from the top. This also marks another theme for 2011 – designs that are a bit scary.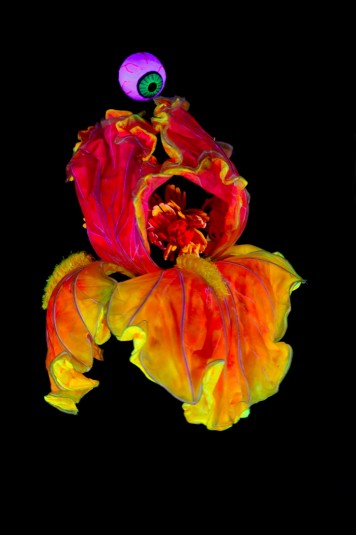 The Creative Excellence section had the theme "under the microscope". I was hoping for bogies, but no one had seen fit to incorporate snot into their design. But there was plenty of blood and biological ickiness to stir the emotions. The winner was bone-themed, Hide in my Bone Shadow by Marjolein van der Wal of the Netherlands. It was like a corset/control-top undies but with a massive vertebrae-like structure around the back. Again, another slightly scary looking one.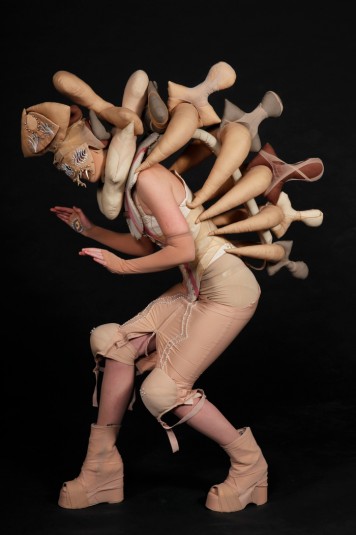 Now, a strange thing happened in the open section – the on-stage entertainment was almost too good. The tradition display of the wearable art traditionally works like this – people modelling the wearable art make their way around the outside of the stage, while some form of entertainment takes place in the middle of the stage. This year the Royal New Zealand Ballet was involved and they were amazing. But here's the thing – I realised I was mainly watching the dancing performance and wasn't paying attention to what should have been the focal point – the wearable art. It's an odd criticism to have to make, but I think perhaps the entertainment should have been a little less amazing.
The winner of the open section was Hermacea, a giant lobster costume by Jan Kerr of Paraparaumu. There weren't many New Zealanders winning this year, which is perhaps an indication of the international reach of the competition now.
The men's section had the theme of reinventing the groom. It was presented with the Billy Idol's "White Wedding", which seemed to get the audience very exciting. The most tittelating costume was a man naked but for a bowtie and a bride's bouquet covering his genitals. Now, you know how WOW is a fave with middle-aged ladies? Well, just imagine their reaction to this guy. Shrieks of delight.
The winner was another partly nudie entry – Sir Lace Alot by Julie Brawley of Nelson. Playing on a theme of male vanity, this piece was effectively a transparent wedding dress. And speaking of vanity – there were three peacock-inspired pieces in this category. All were rather extravagant.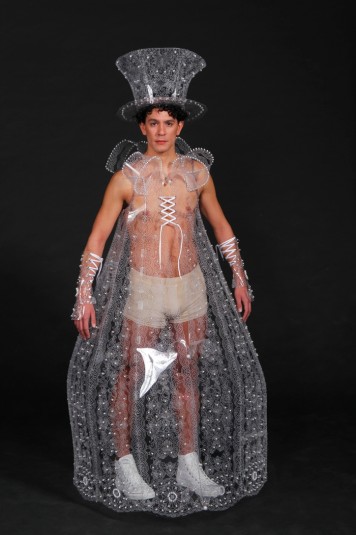 The avant garde section had even more extravagant entertainment. The amazing Ben Makisi and Aviale Cole sang opera, and the Royal New Zealand Ballet were back for more. At that point I just gave up on watching the wearable art. This was a splendid performance and I didn't want to take my eyes off it. Joanna thought it was a good way for the audience to get  great value for money, since you get so many different shows together at once. Plus, she enjoyed seeing ballet dancers in traditional tights and tutus for once, because the RNZ Ballet are normally doing excitingly different things like Carmen. The winner of this section was also the supreme winner, the horsie Hyrolome.
But also worth mentioning in this category is the runner-up, Reflection by Erna and Karl Van Der Wat of Auckland. While Joanna reckoned this looked like an IKEA vase (and, yeah, it kinda does) (and she didn't think that was a bad thing!), it got a big cheer and I wouldn't be surprised if the wins the audience favourite vote.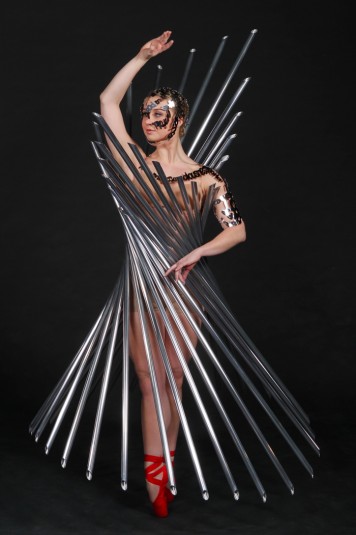 Finally, the Kiwi Icons section. And things got a little nuts here. Again, it was another presentation that distracted from the wearable art, to the point where I didn't even realise there was wearable art being presented until about halfway through.
A broken-down old shack took centre stage, with a bunch of people milling about in Kiwiana costumes. And there were sheep – real live sheep, and a well-trained farm dog. This is the fantasy New Zealand, where it's always 1953, there are no cities, and there is no depression in New Zealand. The audience loved it.
Ginette McDonald was camp mother, and out of the shack came… Mayor Bob, complete with his orange jacket. Ginette had a chat with him, which got kind of deep when he let slip that it's been so awful in Christchurch that everyone, at some point, has expected they were a gonner. Bloody hell. Different notable New Zealanders are going to come out for a chat every night.
Then, as if things couldn't get any more Kiwi, John Rowles appeared and sang "Ten Guitars". I think there was swooning.
Hilariously the winner of this category was made by an American – Isabelle by Lorene Ireland. It turns out there is kitschy shell art in other countries too.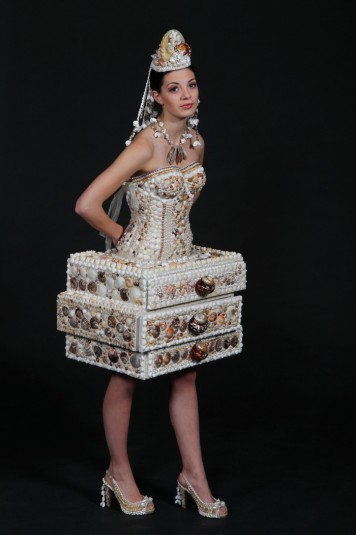 The show ended with Slice of Heaven, so let's take that opportunity to remind you of the special fundraising screening of Footrot Flats: A Dog's Tail at the Embassy, this Wednesday at 6.30pm, to support the Wellington SPCA.
But the biggest question is – famous people, what did you think of it? Well, notorious tweeter Stephen Fry was there and he opined:
@stephenfry
Wow, in every sense. Just attended one of the great evenings of my life. Kiwis should be so proud. Simply fantastic. worldofwearableart.com
Oh yay! Though non-Wow-attendee and friend of the Wellingtonista Sam Scott had a differing opinion:
@samuelfscott
Another year, another WOW. It's the 7's for middle aged morons. #ihatenewzealand
It should be noted that the Sevens is also the Sevens for middle-aged morons.
But the best celebrity story happened at the end of events. One of the organisers had to put a banner up on stage. On her way to the stage, the banner's stand collapsed, leaving her scrambling to get it back together (shame!). She was near the VIP tables up the front, and two male diners leapt to assist her – Peter Jackson and Orlando Bloom. What's a girl to do?