Wendy's comes to town
There have been rumours for a while that a Wendy's was coming to Wellington, and finally I received a report from the Kapiti: a Wendy's had just opened in Paraparaumu.
Wendy's Old Fashioned Hamburgers – not to be confused with the Australian ice cream parlour chain Wendy's Supa Sundaes – is an American burger chain – the world's third largest. It's been well established in Auckland since the '90s, but has only just started to branch out south. So, in the name of nomz, I had to investigate.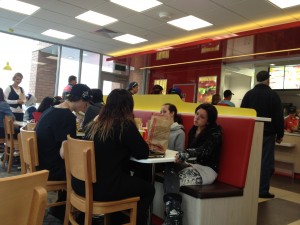 The Paraparaumu Wendy's is right on State Highway One, next to the Coastlands big box shops. It's very much designed for drive-through traffic and travellers. It's a short but unpleasant walk from the train station, requiring a trek across multiple car parks, and being deprived of taking a direct route. Well, it was built on the site of a former petrol station, so the pedestrian unfriendliness is not surprising.
Inside it's as decent as any Auckland Wendy's I've been to. The seating area is smaller than the Auckland restaurants, but I think this is mainly due to a general shift away from in-house seating as more people get their food to go.
It was bustling when I got there at around 3.30pm, with a lively after school crowd and curious shoppers. The full Wendy's menu was available, complete with their specialties like baked potatoes, chilli, and the taco salad, as well as the standard burgers and chips.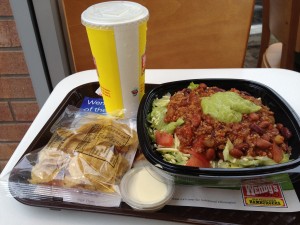 I ordered the aforementioned taco salad, the Meaty Mexican Salad, as well as a "small" drink that looked massive, but due to all the ice in the cup, it was secretly about the right size. It was good. It was what I needed.
Is the Paraparaumu Wendy's worth a special trip out from Wellington? If you're hankering for some Wendy's, yeah, otherwise save it for a time when you're up the coast anyway. Let's hope that Wendy's will see fit to open a store closer to the capital. There are some times when only a Wendy's chilli will do.