we pause for some pretty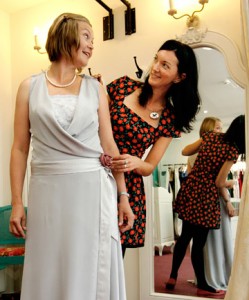 It's Academy Award day in LA and we know the answer to the fashion question of the day "what are you wearing?" for two Wellingtonians, Jana Barrett and Jennifer Bloomfield. The answer  = Voon.
Jana's husband, Weta Digital's Daniel Barrett (who will be wearing a Merino wool tuxedo), was the Animation Supervisor and Jennifer's husband R.Christopher White was a Visual Effects Supervisor for Rise of the Planet of the Apes. This is the first Academy Award nomination for them both.
Sophie Voon's been the go to designer for wedding and party dresses in Wellington for a long time, but this is her first time designing dresses for the Oscars.  Stay tuned to the Wellingtonista for a wee shop visit to her new bridal shop