Feliz cumpleaños, La Boca Loca!
Our favourite Miramar Mexican restaurant is turning one, and to celebrate, they invited us along to learn how to make tortillas, and to taste some tequila. It's a hard life being a Wellingtonista, but if we have to rub shoulders with mouth heroes like Jonny and Rachel and Martin, well these are the lengths we'll go to in order to bring you this hard-hitting investigative journalism.
First up was the tequila tasting, with owner Lucas.
Lucas grew up in California, and he and his wife Marianne were compelled to open La Boca Loca after discovering lots of other American expats working here in the film industry all missing Mexican food. He's a man who knows his tequila well (or is good at pretending to know his stuff anyway), and told us lots about its history, the regional variations, and lots of information about agave, which is a kind of lily, not a cactus (the more you know!). The blue agave that is used in tequila takes eight years to grow, and can weigh up to 300 pounds, which is enough for about 60 bottles. I managed to learn these things even after we started with a shot of delicious Herradura Blanco. This is nothing like the disgusting Pepe Lopez of my university years. Things got even more tasty as we moved through the tequila tasting flight.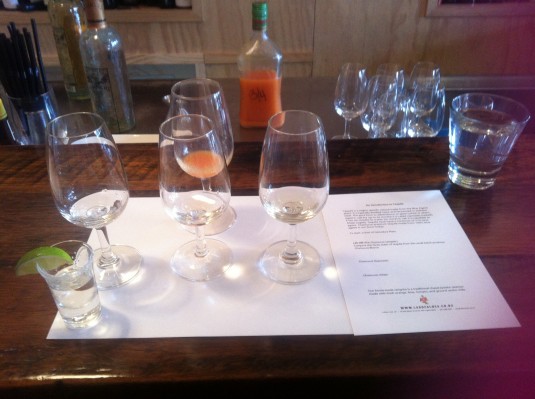 What you see before you is the Chamucos Blanco (white), which the tasting notes describe as "Pine and citrus nose, earthy-grassy sweetness with mild spice", the Chamucos Reposado (rested) – "Oak, earth and honey nose, oak and citrus, sweet fruit and smoke. Mild spice.", and the Chamucos Añejo (aged)- "Sweet oak nose.Light-bodied Añejo with oak, vanilla, lemon and pepper spice".
Given that the tequilas were made in the same place, from the same agave, it's amazing how different they tasted as a result of their barrel treatment. The blanco was super fresh-tasting, while the Anejo was like a dessert wine. It was hard to sip them slowly since they were so delicious, but pairing them with the spicy sangrita (juice made from orange, tomato, lime, onions and chilies) slowed me down a little. That sangrita was AMAZING. I can see myself drinking litres of it next time I'm hungover. If you order a tequila flight (which I totally recommend doing – there's three different kinds on offer), you'll get to try the sangrita for yourself, and I think they might even start offering it up like a Bloody Mary.
Then it was time for our two groups to switch, so we could perch at the kitchen counter and learn how tortillas are made. One of the reasons that La Boca Loca was playing host is that as well as it being their birthday, they've also started selling their new range of Mexican cooking supplies so you too can cook more authentic Mexican at home. Chefs Chris and Will gave us a show and sniff and touch tour through various Mexican spices and dried chilies that they use, and talked us through the process of mixing masa (ground corn with the outside bit removed to make it easier to digest) into tortillas. I've seen tortilla presses for sale at On Trays in Petone, but you can also use your hands, or flatten them between the pages of a book if you like. La Boca Loca makes its tortillas fresh every day, and since they go through around 300 at a time, apparently there are armies of Miramar teenaged kitchen hands roaming around with one arm much bigger than the other from doing the pressing.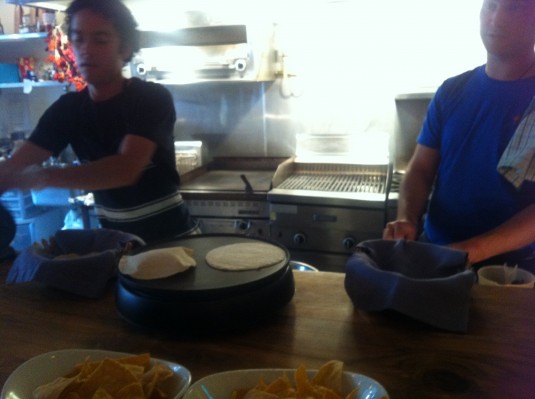 Fresh tortillas are yummy, especially when trying to recover from eating too much insanely spicy (but tasty) haberero salsa. Much more manageable was the Salsa Verde, delicious and green made from tomatillos. Will told us about how they're working directly with many of the growers of tomatillos around New Zealand so they can get constant good fresh supplies, but that they have to import most of their chilies from Mexico because of climate differences. Lucas also said that he tends to come back with suitcases full of tequila when he goes on holiday. I'd like to travel with them.
As well as the tortillas, Will also cooked up some Mexican chorizo, which is made with pork meat and spices, and not hung in sausage casings the way European chorizo is made. We talked about moles and other sauces, and it was just a real pleasure to be able to learn from people who are clearly so passionate about what they do. Thanks for having us!
I've always loved the food at La Boca Loca, and even though I now have the means to make some of the food at home,  I know I need to return as soon as possible so I can EAT ALL THE THINGS.  I'll see you there okay?