Pirates at Roar
Shiver me timbers, prepare to enter the wicked world of pirates.  Eight artists will sail the seven seas discovering pirate treasure.  Jewellers Buster Collins, Vaune Mason and Amanda Howley are taking on the accessories of pirate-ism with a vengeance.  From eye patches to collars, hooks to compass rings, these jewellers will provide all the treats and treasures that really make one feel ready for the high seas.
Michele Irving depicts swashbuckling animals living a life of adventure or tragedy as daring pirates.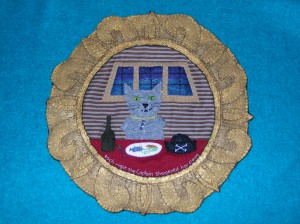 Stephen Templer questions the current clichéd pirate imagery, with another rich cultural and symbolic source "Disco".  What if pirates were into disco as well as rape and pillage?
(Here's a favourite nautical themed video by Stephen Templer)
Sam Broad explores the debate of modern digital piracy, free software, copyleft versus copyright and economic issues of property as theft.  Central to the piratical notions too art the democratic division of spoils and the exploration of new frontiers – all whilst keeping the "jolly" in Roger.
Also exhibiting are artists Buster Collins, Vaune Mason, Amanda Howley, Rieko Woodford-Robinson and Marita Green.
Head to ROAR! gallery near the corner of Vivian and Victoria Streets for the opening night 5.30 – 7pm Thursday 3rd May, to meet the artists and have some wine.